U.S. smartphone adoption is lowest in developed world, South Korea highest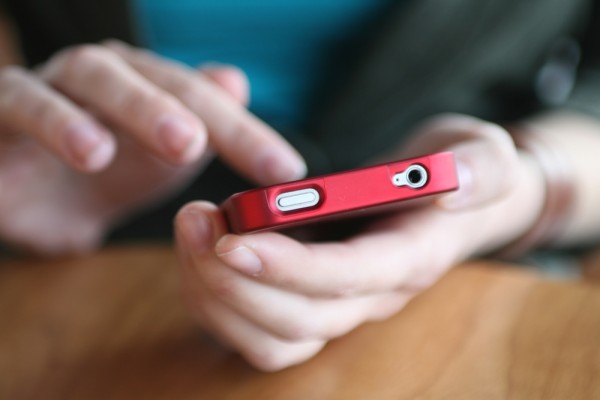 Today at Mobile World Congress, Nielsen offered a snapshot of the global mobile consumer based on a report released this month. Some of the findings are quite startling. For example, mobile phone usage is highest in South Korea -- get this, 99 percent among consumers older than 16. Same goes for smartphones (67 percent). By comparison, the United States has the lowest smartphone adoption among developed markets (53 percent). Now contrast that to China, where two-thirds of handset owners have smartphones, while in India 80 percent have feature phones. In Brazil, feature phones and multimedia handsets combined: 65 percent.
Mobile phone usage is high in many countries, but infrastructure is not. For example, 98 percent of Russians have mobiles, as do 84 percent in Brazil and 81 percent in India. Problem, according to Nielsen: "The network infrastructure required for smartphones and next generation mobile devices has yet to appear outside of large, urban centers". Lacking infrastructure explains some of this week's MWC announcements, such as Firefox OS phones or new Nokia Lumias with fewer smartphone features for lower selling prices going to emerging markets first.
Smartphone adoption largely, but not wholly, skews with age. According to Nielsen:
Younger users are more likely to own a smartphone and older users are more likely to own a feature phone, which makes sense since feature phones are more established in the marketplace. Though there are some exceptions -- in Italy consumers have higher smartphone ownership among users ages 35-64, whereas in India feature phones have far more penetration than smartphones across all age segments -- the broader trend suggests that smartphone adoption will likely continue to rise as younger consumers age.
In most countries, smartphone adoption is highest among 25-34 year olds:
South Korea: 86 percent
United Kingdom: 78 percent
United States: 73 percent
Italy: 72 percent
Whereas in China and Australia, adoption is greater among 16-24 year olds -- 82 percent and 77 percent, respectively -- and equal to 25-34 year-olds in South Korea.
Americans and South Koreans are most likely to have data plans -- 96 percent and 89 percent, respectively -- followed by Brits (86 percent), Australians (81 percent) and Chinese (77 percent).
No surprise, text message usage is high in most countries -- more than 90 percent in Australia, China, Russia, United Kingdom and United States. Instant messaging is big in South Korea (70 percent) and email in the United States (75 percent).
Brazilians are the most avid social networkers (75 percent), followed by Turks (69 percent), Brits and Americans (both 63 percent). However, social and other activities look differently when taking app usage into account. That's in part because of how smartphone, feature phone and multimedia phone adoption skews across geographies. Nielsen explains:
Chinese and American smartphone owners are the heaviest app users overall, with games being the most used type of app in more than half of the selected countries (China, Australia, Italy and Brazil). Social networking app usage is strongest in the U.S., with 85 percent of American smartphone owners as regular users. Smartphone owners in India and Turkey are the least likely to regularly use all categories of apps, but the most popular tend to be more entertainment driven, like social networking and games.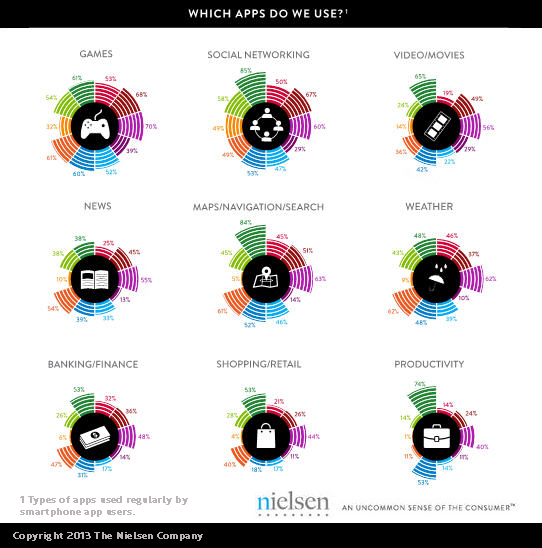 Data-consuming video is an increasingly popular mobile activity. Nielsen:
Smartphones are a popular device for watching video, despite the smaller screen size. In most countries, mobile web is the most popular means of accessing mobile video, while smartphone owners in the U.K. and South Korea are more likely to watch mobile video using an app. In the U.S., smartphone owners are equally likely to watch video via mobile Internet and apps (72 percent), and Indian smartphone owners are the most likely to view downloaded video clips (57 percent).
Video-watching frequency is interesting dynamic and somewhat rings where smartphone adoption and supporting infrastructure is greater. "Chinese smartphone owners are the heaviest users of mobile video, as 17 percent access more than three times a day", according to Nielsen. American smartphone users lead "all countries in daily mobile video usage (31 percent use at least once per day)".
Photo Credit: D. Hammonds/Shutterstock