Firefox OS races for third place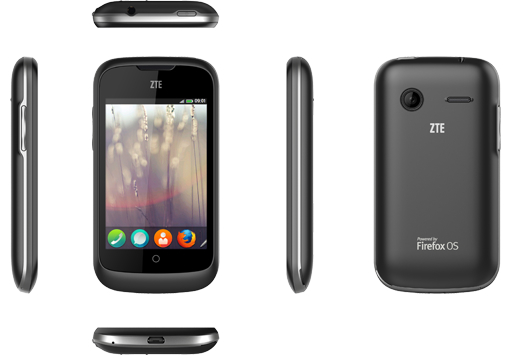 Mozilla means serious business about Firefox OS, if today's Mobile World Congress announcement is any indication. Timing couldn't be more serious. Gartner says there is little room for a third smartphone platform; in fourth quarter, Android and iOS dominated with 90.1 percent share, based on actual sales. The race for third place is on, with BlackBerry and Windows Phone established, but weak, contenders.
Mozilla proposed Firefox OS nearly two years ago, when BlackBerry OS still had appreciable market share and smartphone growth was strong. But as the first Firefox OS devices come to market, much is changed. Mature markets already rapidly saturate, China is the largest for smartphones, feature phone share is expected to fall below 50 percent this year and Samsung has replaced Nokia as global handset leader. The best place for a newcomer, based on who will partner and where there is room to grow: Second-world and emerging markets -- and that's where Firefox OS is headed.
Alcatel One Touch, LG and ZTE are early hardware launch partners. Eighteen carriers are committed to offering Firefox OS smartphones: América Móvil, China Unicom, Deutsche Telekom, Etisalat, Hutchison Three Group, KDDI, KT, MegaFon, Qtel, SingTel, Smart, Sprint, Telecom Italia Group, Telefónica, Telenor, Telstra, TMN and VimpelCom.
América Móvil will bring Firefox OS phones to Mexico; Deutsche Telekom to Poland and other parts of Europe; Telefónica to Brazil, Colombia, Spain and Venezuela; and Telenor to Eastern Europe and other countries. Full list of launch destinations: Brazil, Colombia, Hungary, Mexico, Montenegro, Poland, Serbia, Spain and Venezuela. Most of the carriers expect rollouts to begin by mid-year and none are markets where smartphones yet have much traction.
This circumstance is crucial to future growth. Smartphones, unlike feature phones, bring platform commitment as users download and purchase apps and get add-ons specific to operating systems and devices. Firefox OS devices face heaviest headwinds in countries where smartphone adoption is greatest and supporting ecosystems with it.
In total, the world belongs to Android and iOS. Anshul Gupta, Gartner principal research analyst, says that "2013 will be the year of the rise of the third ecosystem". Globally, with 3.5 percent and 3 percent sales market share, respectively, BlackBerry OS and Windows Phone are biggest contenders to be No. 3. But on the macro-level, particularly in countries where feature phones dominate, any platform conceptually can beat others -- even those successful in markets like the United States or Western Europe.
From that perspective, Mozilla CEO Gary Kovacs' boast isn't so outlandish as Android or iPhone supporters might think: "With the support of our vibrant community and dedicated partners, our goal is to level the playing field and usher in an explosion of content and services that will meet the diverse needs of the next two billion people online".
Critics might look at the situation differently -- that Mozilla can't find partners for major markets and gets the dregs. Even if true, none of the first distribution wave is a country with high smartphone adoption, which again to emphasize is pure opportunity for Mozilla and carriers.
Hardware partners are an interesting lot. None are top-tier. While ZTE and LG rank fourth and fifth for global handset sales -- with 3.4 percent and 3.2 percent market share in Q4, according to Gartner -- they declined year over year. Third place Apple has greater share than both combined. Sixth-ranked Huawei will join the three this year. Alcatel One Touch is the other Firefox OS partner.
Samsung would be the feather in Mozilla's cap -- but accounting for 42.5 percent of Android sales in Q4, the South Korean electronics giant has little incentive to add a fourth smartphone operating system. Nokia is committed to Windows Phone and Apple will never do anything but iOS. Devices from three of the top-six is a good start, considering Mozilla builds everything new and comes to market late.
The challenge now: Getting devices to market and supporting ecosystem in place. BlackBerry 10 is out, and Windows Phone sales grew 124.2 percent year over year during fourth quarter, according to Gartner, arguably from a small base. So the race for third place is on.