Vimeo aims to be the Instagram of video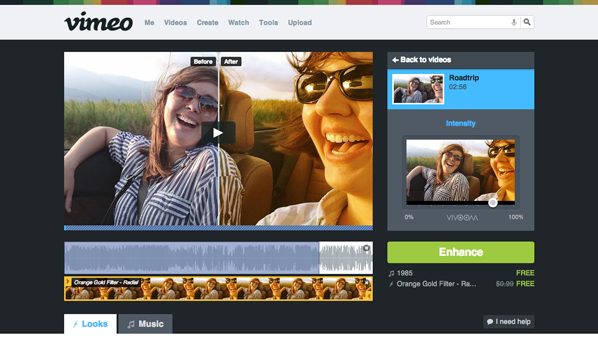 Instagram has become wildly popular for sharing pictures, thanks, in part, to its filters that allow the user to alter the appearance on a particular image to get just the right look. Now Vimeo wants to add that same functionality to your videos. Today Ryan Hefner took the wraps off of Vimeo Looks.
Looks debuts with a large set of filters -- more than 500, according to Hefner. Customers can cruise through them and quickly try out different ones to find what they think will showcase the video in the best way. Hefner points out that "you can also check out recommended Looks tailored to your specific video, or browse by genre, mood, location, color, time period, even holiday".
The Looks filter system is based on Vivoom, which is used by major studios like Sony, Warner Brothers, and ESPN for their own video production.
If you are wondering if you can produce a popular online video then consider that, according to ComScore, "Nearly 36.2 billion video content views occurred during the [past] month". The report goes on to state that "83.5 percent of the U.S. Internet audience viewed online video". That is a tremendous amount of online media being consumed. None of this means that you are the next big meme, but the audience is out there.
Vimeo previously allowed users to add music to their videos -- watch out for that DMCA thing -- and now Looks can enhance the video portion of your little, or big, production. Users can check it out and get started by visiting the Vimeo Enhancer. For now, Looks is free, but Vimeo claims that the offer is for a limited time.