Microsoft Photosynth finally reaches Windows Phone 8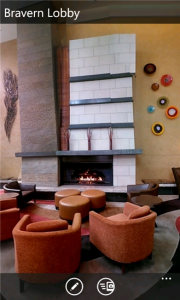 By now most of you have likely heard of Photosynth, the Microsoft Labs project that made the mainstream, first as a web app and then on mobile. Now the mobile version has finally been ported to Windows Phone 8 devices as version 1.5 lands in the Windows Phone store today.
Photosynth is a panorama app that can take multiple high resolution images and stitch them together into a fantastic picture that users can pan around -- you can see some great examples on the website (it requires Silverlight).
Microsoft's Michael Stroh made the announcement earlier today, saying that "I know many shutterbugs have been waiting eagerly for this free app—and it appears patience has paid off. The Windows Phone 8 release contains several handy new features".
Among those new features is Lens Integration, which allows the user to launch Photosynth right from within the camera app. There are also new sharing features built in, allowing other Windows 8 users to view your shared panoramas -- users can still share via Facebook, Twitter and Email. Finally, Microsoft claims better camera controls, especially in the area of lighting.
Users can, as always, publish their images to the Photosynth website to share with the world. This makes the panorama visible directly from Bing Maps and Bing search results.
I really like Photosynth, and I am very happy that Windows Phone 8 customers finally have access to the service. However, WP8 has been available since October 2012. Microsoft's slow support helps to explain part of the problem the mobile OS has gaining traction.