Nokia photo app begs Facebook to bring Instagram to Windows Phone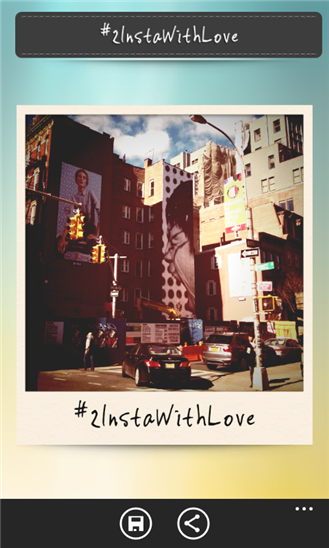 Windows Phone users have many of the apps they need -- though not always the official ones. However, one noticeable service is lacking -- Instagram has yet to release a client for Microsoft's mobile platform. Given that the software giant spent $240 million to purchase a stake in the social network back in 2007, and that Facebook now owns Instagram, that has to sting a bit. Then again, Microsoft writes the Facebook for Windows Phone app, but let's not chuck salt on wounds by going there.
Nokia, the flagship handset maker for Windows Phone, is apparently so desperate to right this perceived wrong that it wrote an app to fill the gap. "Many of you have asked when Instagram will be coming to Windows Phone, and the #2InstaWithLove app was created as a way for you to have your voice heard. The app allows you to take a photo using the classic polaroid filter and automatically adds the hashtag #2InstaWithLove".
To be fair, Nokia is not trying to rip off the mobile photo-sharing kingpin, but only use this as potential lobbying power in its battle to get the app onto Windows Phone devices. According to Nokia's description in the Windows Phone store, "It's all about showing Instagram just how passionate the Windows Phone community is -- so be creative, have fun and be sure to share your favorite photos with us using a social network of your choice".
The Finnish handset maker is clearly taking lobbying to a whole new level -- and with good reason. Instagram has become a staple for Android and iOS customers, and many Windows Phone users are feeling left out in the cold. Given that Nokia is known for its incredible cameras and Carl Zeist lenses that are built into the Lumia devices, it's really a shame that this growing portion of the market is still learning to do without.