Kindle Paperwhite is my new favorite gadget [Review]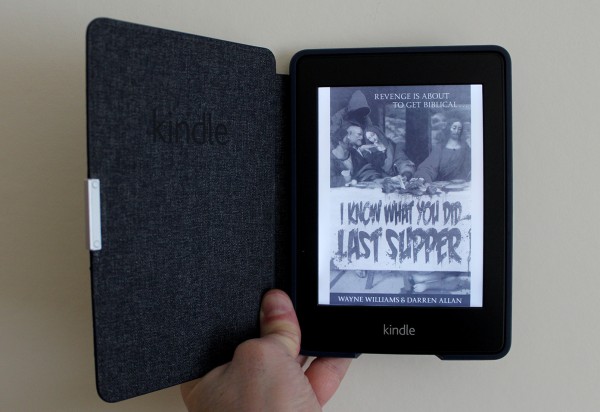 When I wrote Why I Love Kindle back in February I said I was intending to upgrade to a Kindle Paperwhite soon. Three weeks later, timed so I can buy a Kindle copy of my own book (my publisher only supplies free paperbacks), and that's exactly what I've done.
The Kindle is one of those very rare devices that you don't really need to upgrade. New features, an improved screen, touch support – it's all well and good, but when you're reading something you're pretty oblivious to anything other than the words on the page. Or rather the screen. That said, moving to the Paperwhite from a second generation Kindle is a huge leap forward.
The big difference of course is the Paperwhite comes with a frontlit, high-res capacitive touchscreen. A frontlit screen means exactly what it says. It's lit from the front. So instead of a light shining into your eyes, it shines on the screen. This means you can read the Kindle comfortably at night without the need for a torch or reading light. It also has another benefit. It brightens up the screen, so instead of a grey-ish display you get one that's white. Paperwhite in fact.
Because it's touchscreen, there are no actual buttons to worry about, except the on switch at the bottom of the device. Moving around is just a case of touching the left and right sides of the screen to turn pages, and tapping the top of the display to access the menu. If you want to look up a word you just press and hold it for a bit, then let go and the definition pops up. You can share and highlight text or add notes in the same way.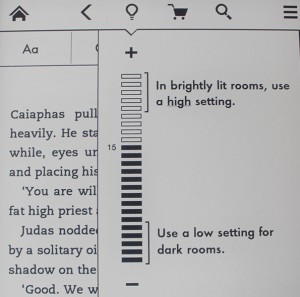 The Paperwhite lets you access books stored on the device or, if you prefer, in the cloud, and the top menu lets you adjust the screen brightness (turn it up for brightly lit rooms, or dim it for darker locations), go shopping for new books on Amazon, and access the options. You can switch between list and cover view, sort your books by creating collections, sync and check for items and launch the experimental browser. The settings screen lets you turn Aeroplane Mode on or off, configure Wi-Fi, and access device and reading options.
Compared with my second generation Kindle, the Paperwhite is tiny. It's smaller all round, thinner and lighter but with a slightly taller screen. Of course my old Kindle had a large keyboard on the bottom so that's part of the reason for the difference in size.
The text is sharper (the PPI has risen to 212 from 169), which combined with the frontlight makes reading more pleasurable. Well depending on what you're reading of course. You still get the ghosting, as well as the E Ink flicker when the screen refreshes itself but it's faster and so less noticeable.
A friend who owns a Paperwhite said she struggled a bit with the device because she found it a little awkward to hold one handed without accidentally touching the screen and calling up menus or flipping pages. I haven't experienced that problem, but that might be just how I hold it, or down to the fact I've shelled out on a case that makes the device easier to grasp.
Although Amazon was having a sale on third-party cases when I purchased my Paperwhite, I ignored those in favor of buying Amazon's official Leather Cover in Ink Blue. This only fits the Kindle Paperwhite and automatically turns the e-reader on when you open it (so you need never use the one physical button if you don't want to). A lot like the Smart Case on my Apple iPad.
Just one more chapter...
There are two features new to me that I quite like. Time to Read is very clever and analyses the speed you read at and gives you an estimate of how long it will take you to read the next chapter, or the entire book. If you're wondering if you have enough time to read the next chapter before turning in for the night, it can tell you with reasonable accuracy.
The other feature is X-Ray. This shows you information about the important characters in the book or on the page. It requires the book you're reading to have this feature enabled, and a lot of books won't (my new novel doesn't for example). That said, although I've tried X-Ray out and think it's quite clever, I don't imagine I'll be using it much, if at all.
I've only had my Paperwhite for a short while, but already I'm loving it. I'll be keeping my second generation Kindle because I like the physical keyboard and will use it for making notes on my next novel, but for day-to-day reading, I'll be permanently attached to the new device, and as I do a lot of reading at night, the combination of the frontlight and Time to Read means I'm already powering through my current choice of book.
If you own a non-Paperwhite Kindle, or another eBook reader, do you have any plans to upgrade, or are you happy to stick with what you've got? Comments below please.
If you'd like to buy a copy of my novel -- I Know What You Did Last Supper -- I believe Amazon might just have it in stock. You can also read an extract here.