Why I love Kindle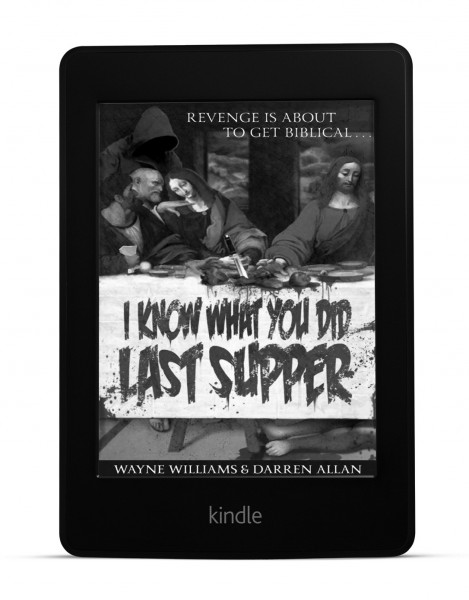 Second in a series. I had a nice surprise Valentine's Day gift delivered to my door this morning -- a box of ten copies of my new novel (I Know What You Did Last Supper) courtesy of my publisher and fresh off the press. It seemed weird holding the book. Not just because it's my first novel (co-authored with a friend), but because I haven't held an actual book for maybe two years now.
When the Kindle first came out, I resisted it. I've loved books since I was child, and couldn't ever imagine switching to an ebook reader. But then I was given the device as a Christmas present in 2009 and despite all my reservations fell in love with it almost immediately.
Despite my passion for technology I was concerned that I wouldn't enjoy reading a book on the Kindle as much as reading a real, proper, made-of-paper novel, but it turns out the exact opposite is true. You forget, once you've gotten used to how the E Ink display flickers when you "turn" pages, that you're reading on an alien, electronic device, because your mind concentrates on the words, not the way they're being delivered. On the message, not the medium.
And there are so many benefits to reading on the Kindle. It's lightweight yet can store a ridiculous number of books. Big, fat novels which I previously kept putting off reading in favor of smaller, less chunky alternatives, seem less daunting on the Kindle. They don't take any less time to read, but the length of the book isn't such a factor when deciding which one to tackle next.
Ebooks are often cheaper too. My novel, which is available in printed form for £7.19 in the UK (as an example), costs just £4.49 in Kindle format ($7.24 in the US). And when you buy a digital book it's in your hands, on your device, ready to read immediately.
Kindle apps, for devices like my PC, iPad and Android smartphone, also allow me to switch devices but carry on reading where I left off (thanks to Amazon's Whispersync technology), which is fantastic. Although I still prefer reading on a glare-free E Ink screen where possible.
Another benefit I personally found with my Kindle, which is a second generation model with a keyboard, was that I am able to stick early drafts of my novel on there and read it like a regular book, but also add notes. Previously I'd have had to have printed it out. Numerous times.
Since making the switch to Kindle I've persuaded five once die-hard traditional book readers to give it a try, and they're all now smitten with the device too. And, perhaps most interestingly, all of them say they're reading more now than ever, which is great news for authors like myself.
Although there are lots of other ebook readers around -- the Nook and the Kobo for instance -- I love my Kindle and see no reason to switch, although I will be trading up to a Kindle Paperwhite very soon, and passing on my beloved old device to another skeptical friend.
So that's why I love the Kindle. Are you an ebook devotee like me? If not, what's holding you back and do you think you'll ever make the switch?