Nokia releases Glam Me app for narcissistic Windows Phone 8 Lumia users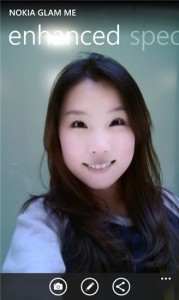 Nokia targeted hipsters with #2InstaWithLove a couple of days ago, and now the Finnish smartphone manufacturer has shifted its focus onto narcissists. Nokia Glam Me allows users to take enhanced self-portraits for later adulation and, obviously, sharing across various social networks.
There's a catch though. In order to take advantage of the benefits that Nokia Glam Me touts, one has to own a compatible Lumia smartphone running Windows Phone 8. And, for the best results, users might want to look towards a higher-spec'd model in the front-facing camera department, like the Lumia 920 or the recently-introduced Lumia 720.
Self-adulation can be achieved simply by using the default camera software to take self-portraits of course, but that's not the Nokia way. The Finnish company takes it a step further by allowing users to "lighten up that minor blemish" or spruce up their day by adding automatic enhancements and manual adjustments.
The app provides tweaks for facial details as well as "cool artistic effects optimized for self-portrait" like a grayscale effect of sorts. There's even "intelligence inside", because what's beauty without brains?
Nokia Glam Me is available to download from the Windows Phone Store.