Third-party alternatives to official Google apps for Windows Phone 8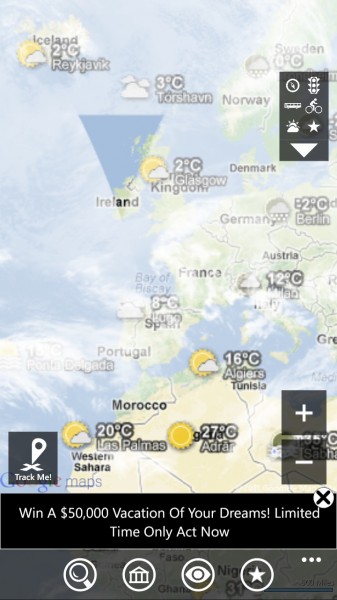 If you're the sort of person deeply rooted in Google services, at first glance migrating to Windows Phone 8 from either Android or iOS can be a total drag. The information giant has released a single app so far, which can be used to search the web, but nothing else. Luckily, there are plenty of third-party alternatives to choose from that offer decent and sometimes superior experience for Google users.
But finding the right replacements can be tricky, as the Windows Phone store features more than 130,000 apps and a simple search query returns many results of variable quality -- some great, some not so great. To make your job easier, I've prepared a list of Windows Phone 8 alternatives to traditional Google apps, ranging from Google+ to Google Maps, Google Reader and even YouTube.
Because Google does not charge for its own apps on Android or iOS, whenever possible the alternatives I list throughout this article are free. For users that have two-step authentication enabled across Google services, some apps may require an application-specific password while others only require a verification code in order to operate accordingly.
Google+
On Android and iOS the search giant offers native Google+ apps. However, on Windows Phone 8 third-party developers have only released replacements that display a mobile view of the website.
One of the best alternatives for Google+ users is Google Plus Viewer, which is free and features a decent-looking user interface. When opening the app users can go straight to the stream, menu, photos, circles or search and, because it renders a mobile view, most of the traditional Google+ features are available straight off the bat like on any browser.
The only apparent disadvantage is the size of the text and buttons, which on the stream are on the small side and make interactions a tad difficult. Another Google+ alternative, similar to Google Plus Viewer, is g+ which comes in both free (ad-supported) and paid (no ads) trim -- however, functionally there is little to separate the two.
Google Drive
One of the best-rated alternatives is GDocs, a client for both Google Docs and Google Drive. The app can be used to view documents, drawings, forms and spreadsheets, edit, email and upload documents and view offline content. The editing features are not as good as with the official Google Drive app.
Other noteworthy alternatives to Google Drive include GDrive, which is touted as "educational" and with code offered "freely and open-source", and GDrive WP7, both free. The latter of the two, on top of the GDocs features, can also upload pictures, back up contacts and share files, among other features.
For those of you that have no problem with shelling out $4.99 for a Google Drive client, there is also Insync which supports multiple accounts, folder and file-sharing with permissions, passcode lock, photo compression and music and video streaming, among other features. The only problems is that the developer does not offer a trial, so you'll have to take the plunge based on the user feedback alone.
Google Maps
By default Windows Phone 8 features a fairly-basic Maps app, which simply does not deliver on the feature forefront. Users can download maps for offline use, use turn-by-turn navigation, look up local places (if it lists any) but the map quality is not up to par with Google Maps.
gMaps is a free, ad-supported, third-party Google Maps app which delivers a multitude of features including street view, multiple layers for traffic, public transportation, bicycle routes, favorites and support for Google Latitude, driving mode (centers and rotates the position on the map) and night mode, among others.
gMaps also displays the speed according to the GPS, can prevent the device from sleeping and can render a hybrid, physical, street, satellite and water overlay map view. The interface is pretty responsive as well and if you want to get rid of the ads at the bottom there is a paid version available.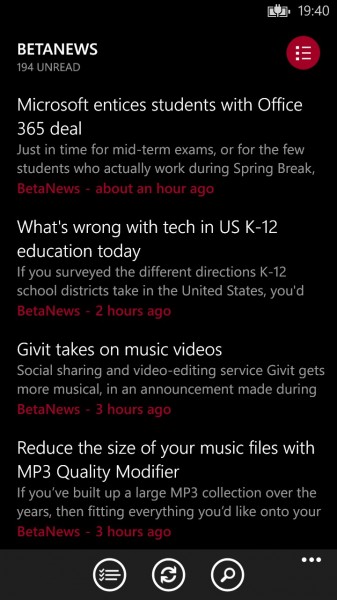 Google Music
If you're a Google Music user on Windows Phone 8 then look no further than CloudMuzik. The free third-party app may not come from the search giant, but it has a pretty nice look and even takes advantage of live tiles, as you can pin artists, albums, playlists and genres straight on your homescreen.
CloudMuzik features support for the entire library, playlists, social sharing of the song that is currently playing, repeat and shuffle, local caching and background audio. There is even a local song count, letting you know of how many files you have stored on your Windows Phone 8 device.
Google Reader
In keeping up with the daily dose of news many of us resort to using Google Reader for RSS feeds, be it through the web or through the Android or iOS app provided by the search giant. On Windows Phone 8, however, there's an even better app called Nextgen Reader.
Nextgen Reader, which is available as an "unlimited ad-free trial" Google Reader client, comes with a comprehensive feature set, allowing users to choose between different themes, sort items by date, hide read entries, use haptic feedback, sync up to 1000 articles for reading straight from the get-go, 200 starred, 200 per feed and 500 per folder, change the view from Instapaper to Google mobilizer and the adjacent size, lock orientation, fit images and so on. It's a lengthy list.
Nextgen Reader can also be used to pin different subscriptions and works with Twitter, Facebook, Windows Live, Readability, Pocket and Instapaper. However, not all of the aforementioned services are compatible with the trial version of the app and some require users to buy Nextgen Reader for $1.99.
Google Search
This is the only app from the list that actually comes from the cloud company and it's called Google (obviously it's free). Unlike the iOS variant, which is a portal towards various services, the apparently-equivalent offering on Windows Phone 8 has very limited functionality.
The Google app can be used to look up things on the InterWebs either by manually typing the query using the built-in keyboard or by voice dictation. The app also features support for autocomplete, my locations and nearby places, but that's pretty much it.
Google apparently has no plans to further support its own users on Windows Phone 8 by expanding the built-in functionality, as the app has barely changed since its introduction.
Google Talk
If you want to chat with friends on Windows Phone 8, Microsoft provides one or two ways to do so. There is Facebook chat using the Messaging app and Skype for audio and video calls and instant messaging, but Google Talk users have to find their luck elsewhere.
Talk.to is a nice little app, that comes free of charge and allows users to connect to Google Talk, as well as Facebook Messenger, and send SMS messages to contacts from the phone and the two aforementioned services. Obviously, the app can also be used for basic chats.
Talk.to provides a history, which is available "from everywhere", can sync across multiple devices (it is also available on Android, iOS, Windows, MacOS and Linux) and provide read and delivery receipts for messages.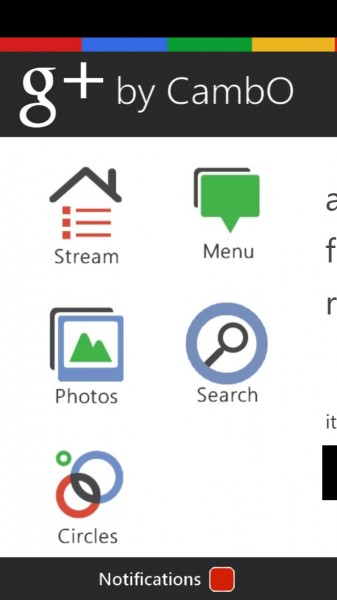 Google Voice
MetroTalk is a Google Voice third-party client for Windows Phone 8 that comes in both free (ad-supported) and paid (ad-free) trim, the latter of which goes for $1.99. The developer touts MetroTalk as "the best-rated Google Voice app for Windows Phone", so let's talk you through the features.
The app supports fast resume, so it powers up quickly, adjustable tiles, lockscreen unread counter, text to speech, auto-dial contacts from the homescreen tile, private mode and secondary tiles, search, thumbnails, multiple recipients for messages, actionable links for phone numbers, URLs and email addresses, among other features.
An upcoming MetroTalk release touts support for voice commands, integration with the People hub in Windows Phone 8, more features for the live tiles, pause, copy and forward for voicemails and many others.
YouTube
Even though Microsoft released an official YouTube app of sorts that only renders a mobile view of the popular video-sharing website. It's not in any way deemed as a suitable alternative to a native offering, but thankfully Metrotube is ready to fill the gap.
The app has long been listed as an "unlimited & unrestricted free trial for limited time!", but it can be purchased for $0.99. Metrotube is by far one of my favorite third-party Google apps on Windows Phone 8, alongside Nextgen Reader, due to its clean look and nice features.
The app can be used to preload, stream HD, pin and share videos, sync with the Music and Video hubs, look up videos by categories and listen to audio under lock (which is a really nice feature when multitasking), among other features.
What about Calendar or Gmail?
Windows Phone 8 comes with calendar, contacts and Gmail compatibility out-of-the-box through the Calendar app, People hub and "email+accounts" feature. Google has extended support for Exchange ActiveSync on Windows Phone 8 until July 31, so you're good to use the built-in functionality until then.
We expect Microsoft to include support for CalDAV and CardDAV in its smartphone operating system, so Windows Phone 8 users can continue to use the essential Google services after the deadline.