Amazon cuts Kindle Fire HD prices by as much as $100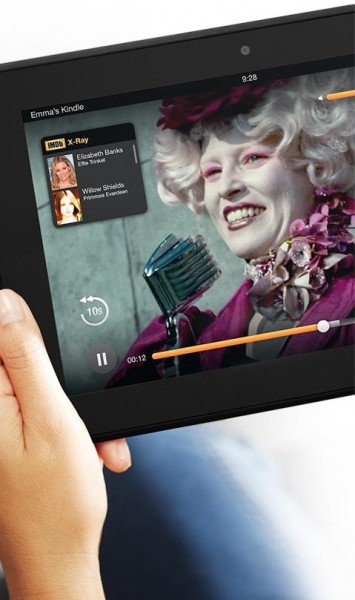 For tablets, 2013 is the year of small form factors -- and, presumably, lower prices. Amazon isn't waiting to see, and that's a good strategy considering Kindle HD might not be the device Goldilocks is searching for. Unlike the fairy tale where one is too big or two small, Amazon's tablet may not be just right. Proactive price reduction could change that.
Here's the problem: Several analyst firms now predict that slates with 7-7.9-inch screens will command the market, which puts 8.9-inch Kindle Fire HD a wee bit on the plump side. "One in every two tablets shipped this quarter was below 8 inches in screen size", Jitesh Ubrani, IDC research analyst, says. "In terms of shipments, we expect smaller tablets to continue growing in 2013 and beyond".
Amazon's new pricing certainly is compelling, bringing the entry 4G LTE model to $399 from $499 and top-of-the-liner to $499 from $599. No other cellular contract-free tablet with LTE competes on price. Apple's iPad mini is closest, starting at $459.
But there's a gotcha. The biggest discounts demand users to accept advertising, or what Amazon calls "with special offers". Those tablets "without special offers" cost more: $414 and $515 for the two 4G models. Prices on WiFi models: $269 or $284 for 16GB and $299 or $314 for 32GB.
Kindle Fire HD 8.9" specs: 8.9-inch display (1920 x 1200 display, 254 ppi); 1.5GHz OMAP4470 dual-core processor; 1GB RAM; 16GB, 32GB or 64GB storage (depending on model); front-facing camera; Bluetooth; WiFi A/N; accelerometer; gyroscope; microphone; and Android. Measures 240 x 164 x 8.8mm and weighs 575 grams.
Prices (with special offers):
Kindle Fire HD 16GB: $199
Kindle Fire HD 32GB: $249
Kindle Fire HD 8.9" 16GB: $269
Kindle Fire HD 8.9" 32GB: $299
Kindle Fire HD 8.9" 4G LTE 32GB: $399
Kindle Fire HD 8.9" 4G LTE 64GB: $499
How that compares with iPad mini:
iPad mini specs: 7.9-inch back-lit IPS display (1024 x 768 resolution, 163 ppi); A5 dual-core processor; 1GB RAM; 16GB, 32GB or 64GB storage; 5-megapixel rear-facing and 1.2MP front-facing cameras; Bluetooth; WiFi A/N; HSPA+/LTE (on three models); accelerometer; GPS; gyroscope; microphone; battery unknown; and iOS 6. Measures 200 x 134.7 x .28mm and weighs 308 grams.
iPad mini 16GB WiFi: $329
iPad mini 32GB WiFi: $429
iPad mini 16GB WiFi/LTE: $459
iPad mini 64GB WiFi: $529
iPad mini 32GB WiFi/LTE: $559
iPad mini 64GB WiFi/LTE: $659
Amazon announced the price cuts concurrent with the tablet's launch in Europe and Japan, with typical vacant fanfare and perhaps a little proactive disinformation (considering IDC's data). Dave Limp, Amazon vice president, says that the company is "thrilled with customer reaction to Kindle Fire HD 8.9", but as is typical doesn't quantify sales. "Customers tell us they love our large-screen version of Kindle Fire HD for web browsing, email, gaming, watching TV shows, reading magazines, and more". But data from NPD DisplaySearch and IDC shows stronger demand for smaller slates.
Limp says that expansion to Europe and Japan allowed Amazon "to increase our production volumes and decrease our costs. Across our business at Amazon, whenever we are able to create cost efficiencies like this, we want to pass the savings along to our customers".