Twitter launches an official app for Windows 8 and RT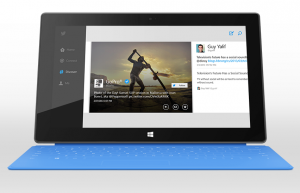 The lack of official apps for Windows 8 led to me describing the Windows Store as being like a Bangkok night market -- full of cheap knock offs. Well today Microsoft's new OS got at least one big official app, with Twitter arriving for Windows 8 and RT.
It's similar in design to Twitter's web interface, and easy to use with Home, Connect, Discover, and Me tabs down the left hand side. Photos appear nice and large, and you can swipe to view multiple pictures. As you'd expect the app has a live tile, so you can see who's replied to you, as well as view notifications for replies and direct messages.
It integrates quite smartly with Windows, allowing you to use the Search charm to find Twitter users to follow, and hashtags of interest, and you can share photos or content from another app (such as Internet Explorer) on Twitter via the Share charm.
If you like to keep an eye on Twitter while getting on with something else, you can snap the app to either the left or right hand side of the screen.
It's all nicely done, even if it did take nearly five months to arrive…