Microsoft opens new online store in virtual Chinese mall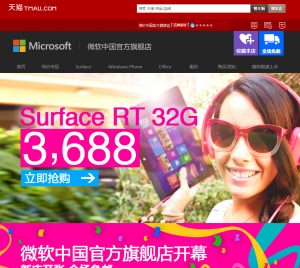 Microsoft is making another attempt to get into the Chinese market by way of something other than piracy. China is the world's largest market for computers, but many of the customers run pirated versions of software, including Windows and other Microsoft products. Now the company is attempting to provide users with a legitimate way to get their hands on its wares, and not just software.
In October 2012 Microsoft opened a version of its online store in the Chinese language, and now Tmall, one of largest online shopping malls in the People's Republic of China, has just added an official Microsoft retail point.
The new online store not only features Microsoft's own software, like Windows and Office, but also Microsoft branded hardware, such as Surface, and the firm's popular range of mice and keyboards. The store additionally offers hardware from Microsoft partners for computers, tablets and Windows Phone handsets.
"We are excited to be working with Tmall.com  for the official launch of Macrosot's flagship store" said Kevin Egan, the vice president of E-commerce for Microsoft retail stores. "Chinese consumers' appetite for brand-name, quality products is surging and they are increasingly making purchase decisions based on experience, value, and service quality".
So, is this enough to stop the rampant piracy that Microsoft and other software makers face in this market? Probably not, but it is a great outlet for the hardware and perhaps will provide the opportunity for Surface and Windows Phone to get a toehold within one of the world's largest economies.