Overhauling a home network, part 5 -- Back to the future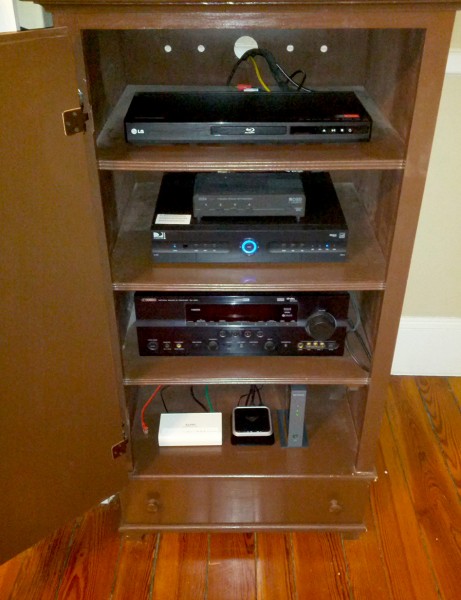 With last week's installment, this little series largely came to an end for now, but it doesn't mean that I am not actively planning for future improvements to the digital lifestyle in our home. In fact, my list of ideas for improvements is a rather lengthy one, though the expenses are enough for now and I have no desire to incur the wrath of my wife with more deliveries showing up on our doorstep.
But, where exactly do I want to go from here? The ideas are endless, but for the sake of brevity I will list only a few here. These are the ones I have prioritized at the top of that future list. The ones I consider most important to make everything work quicker and more smoothly.
The Network
My office, which resides way up on the third floor of this old Victorian, contains the cable modem and router. The router is a new Netgear model, only a couple of months old, and there is no need for change here -- it has wireless N as well as gigabit ethernet. The cables running from it to the desktop PC and home server are Cat 6 and capable of handling that speed. The cable running into the wall, and down a chase to the basement where the switch resides is also Cat 6.
The switch, in this case, is the choke point. It is a couple of years old and I went cheap when I purchased it -- 10/100, not 10/100/1000. That is one place for improvement.
Wires from that D-Link switch run up behind the entertainment cabinet, and again are Cat 6, which is good. They hook to various items in the cabinet -- a DirecTV HD DVR, Blu-Ray player, a Google TV and another switch. That switch is also not gigabit capable -- another spot that needs improvement. The second switch is simply for future expansion, like that Roku 3 I am eyeing.
That cabinet also contains a Netgear wireless extender, which is "N" capable, so there is no need for an upgrade in that department, meaning that this area of the network only requires two new switches -- a minor expense.
The Server
The FreeNAS box has adequate storage at the moment, but I have filled all bays with drives, and even added a modest 320 GB external one as well. It is only a matter of time before I run out.
With that in mind I am looking at external multi-bay drive enclosures. Four bay units can be had for under $100 and internal SATA drives in the 2 TB range are cheap. Even better, they can be added on an as-needed basis, meaning it's an expense spread out over time, which is a wife-friendly way of doing these things.
Computers
A few months ago I would have put HTPC in this section, but feel I have owned my last one now. I never used it to its full potential because I love my DirecTV -- actually I love NFL Sunday Ticket -- so it was more a media jukebox and never a DVR. The addition of the Google TV added all of the Media Center functionality I was using, saved shelf space and was much cheaper than building a new HTPC.
My laptop is slightly over a year old, my daughter's is from Christmas, the older one is a candidate for Linux and the desktop and server are just fine.
No expenses coming here. I say that knowing it is a jinx. The old server was fine until smoke suddenly started coming out of it one morning.
Home Theater
And now we reach my weakness -- not because it needs improvement, but because I simply love playing with this stuff. Our home theater works great. We have a 7.1 channel Yamaha A/V receiver (using only 5.1), Blu-Ray, DVR and Google TV. What's not to like?
I have been coveting a new receiver. As much as I have loved Yamaha over the years, I must confess that I have a mistress named Harman Kardon. The new line is sleek and beautiful. Plus, most new receivers come with ethernet -- I have no idea exactly why I need that in a receiver, other than as a toy to play with. Yes, I know it plays Pandora and the like, but so does Google TV, and it feeds into those 5.1 speakers as well.
I also like to play with set top boxes and both the new Roku 3 and WD TV Live intrigue me. The new Roku 3, with its ability to play audio from a headphone jack on the remote, is especially fascinating, but these are far down the list, given that I just purchased the Google TV and do not feel like being questioned about why we need another device with similar functionality.
In the End
...The love you take is equal to the love you make. No, seriously. There is not really that much on the above expense report. Network switches are cheap and the set top boxes I mentioned are not necessary. The receiver is pricey, but not needed now. The big thing is expanded storage for the home server, and I expect that to be in the $200 range for starters -- the enclosure and one 2 TB drive.
However, I seem to find new toys on an almost daily basis, so I expect this list to continue to expand. For now though, I must say I am happy with how things have turned out.