Digg details Reader replacement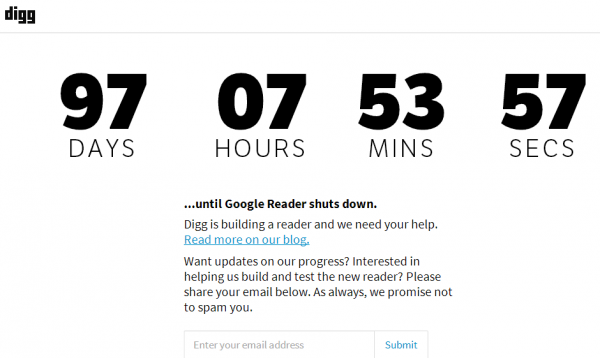 Last week, Digg revealed plans to build a replacement app for Google's soon-to-be-defunct Reader and compete with other services that have suddenly become popular, like Feedly and The Old Reader. While I wait to someday have my OPML file uploaded to The Old Reader (currently number 3,590 in the queue), I am trying out some other alternatives -- I really liked Feedspot, but updating seems spotty.
In a blog post, Digg says "Google did a lot of things right with its Reader, but based on what we're hearing from users, there is room for meaningful improvement. We want to build a product that's clean and flexible, that bends easily and intuitively to the needs of different users. We want to experiment with and add value to the sources of information that are increasingly important, but difficult to surface and organize in most reader applications — like Twitter, Facebook, Tumblr, Reddit, LinkedIn, or Hacker News. We likely won't get everything we want into v1, but we believe it's worth exploring".
Sounds good so far, but we will need to wait for an actual app before getting too excited. The company is continuing to gather suggestions from Reader refugees as it builds the app. In fact, it has set up a mailing list for news on the progress and it is complete with a Reader shutdown clock.