Now Windows Phone 8 users can get jungle fever as well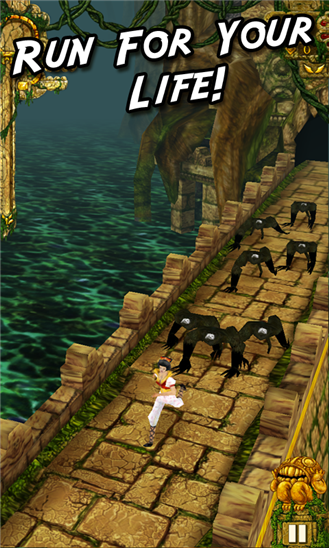 My name is Alan and I am a Temple Run Addict. I play Temple Run 1, Temple Run 2, Temple Run Brave, Temple Run Oz...I have a problem and I am here to admit it. My wife should be my steadying force, but she has a Windows Phone 8, and now I fear she may fall victim to the same affliction.
As of today she can steal the idol from that cave and attempt to outrun the apes through the jungle in Temple Run. The game, long popular on Android and iOS, has landed on Windows Phone after a long wait from customers.
Temple Run will test your reflexes as you race through the jungle making sharp turns, jumping over some obstacles and sliding under others.  Oh, and don't forget to avoid the poisonous snakes as well. And, did I mention that each section gets faster, making the game increasingly difficult with a growing frantic pace?
Yes, this is both good and bad news for customers of the Microsoft mobile operating system. Sure, the game is great fun, but do not miss the fact that the Windows Phone Store begins its description with "The addictive mega-hit Temple Run is now out for Windows Phone". You just became less productive folks.
All kidding aside, if you have not played Temple Run then I recommend grabbing it. The game is free and it really is a lot of fun. If you played the old Pitfall on Atari when you were a kid, as I did, then this should make you feel right at home.
Oh, and Microsoft would prefer you simply ignore the fact that other mobile operating systems have had this game for two years...or that there are three newer versions of the game... Well, let Joe Belfiore and company have their fun with this announcement and their time in the sun. I will be playing Temple Run Oz while they bask in this glory.