Screenshot Captor 4.00 supports webcams, adds free-hand painting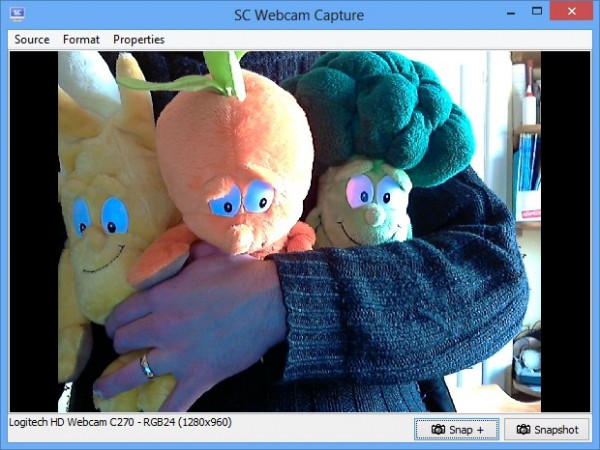 Donationcoder.com has released Screenshot Captor 4.00 and Screenshot Captor Portable 4.00, brand new versions of its powerful screen-capture tool for Windows PCs.
Version 4.00 builds on features introduced last year in version 3 with the addition of support for capturing images from webcams, a new -- and dockable -- QuickCapture bar, extended Undo support and rewritten image uploader tool.
The most visible new feature in Screenshot Captor 4.00 is the new floating quick-capture bar, which can be docked to the top or bottom of the screen where it hides minimized until the user rolls the mouse over it. The bar provides convenient access to all the program's capture functions, plus shortcuts to the main program window, screenshot settings and the program's main user preferences.
Another major new addition to Screenshot Captor's arsenal is support for capturing still images from webcams. Users can switch between different webcams, choose the capture resolution and access the webcam's own configuration tools. Support for capturing video is available through the ESR add-on.
Version 4.00 also introduces freehand painting and annotation tools that, like objects, can be edited after the image has been saved. Undo support has also been widened to include most object manipulation actions, and users can now specify custom comments in the pop-up dialog that appears after a screen capture.
Screenshot Captor 4.00 also overhauls the image uploader tool introduced in version 3 to make it significantly easier to use with supported accounts – currently ImageShack and imm.io. Users can also select the open-source ShareX tool (a separate download) should they wish to upload to other services.
Other notable improvements include the ability to save and load custom configuration files, allowing users to easily switch between different profiles for different applications. Users can also now save all selected images to an animated GIF.
A new Quick Expand Canvas item has been added to the Edit menu, and users can now define their own custom list of preset sizes for resizing and scaling. Also added to the resizing and selection dialogs are percentage options.
The SaveAs dialog now remembers the last file format and directory used, and Screenshot Captor has a new option that should improve its accuracy when selecting active windows.
For a full list of new features, improvements and bug fixes -- all comprehensively documented -- see the program's version history.
Screenshot Captor 4.00 and Screenshot Captor Portable 4.00 are both available as a free-for-personal-use downloads, but users will be periodically prompted to register for a free download key. Donating $25 to Donationcoders.com entitles the user to a single, universal (and non-expiring) product key for all of its products.