Dear Windows Phone, Evernote 3.0 just arrived with a revamped interface and new features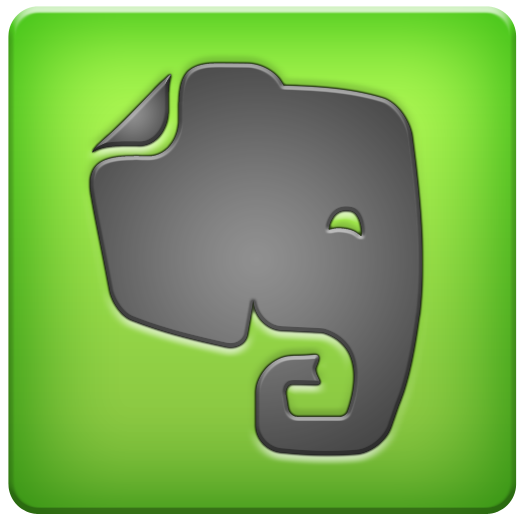 Whenever I want to jot down a couple of ideas for a new story, write some of my thoughts for posterity, or create a shopping list, Evernote is my favorite cloud-based note-taking app. It looks great and is available across all my devices, so I don't have to worry about forgetting important personal things when I'm on the go. Everything that I have is there, everywhere.
What I value the most is the cross-platform spread, as Evernote is available on Android, iOS, BlackBerry, Mac OS X, Windows 8/RT and Windows Phone. And, to get me hooked some more, Evernote 3.0 just arrived on Windows Phone with a revamped home screen, improved tag lists and the ability to use shortcuts, among the most noteworthy new features.
The new home screen is very pleasant to look at, in the typical white and green Evernote tradition with gray status and menu bars. There are big and intuitive buttons that allow users to add a new note, take a picture with the built-in cameras, record a voice note and add a photo from the device's gallery.
Evernote 3.0 uses the current camera configuration and does not allow you to change settings, so that's something to keep in mind for more artistic shots. The app, however, allows users to retake a shot. The remaining two tabs -- recent and notebooks -- take users to the latest notes and the entire collection, respectively. For tag users there's a tab for those which shows up before home.
Evernote 3.0 also adds shortcuts which appear on the home screen after long tapping on a note, notebook or tag and selecting "add to shortcuts" from the drop-down menu. It's a very nifty little feature which might save some time in the long run, especially for folks with large collections.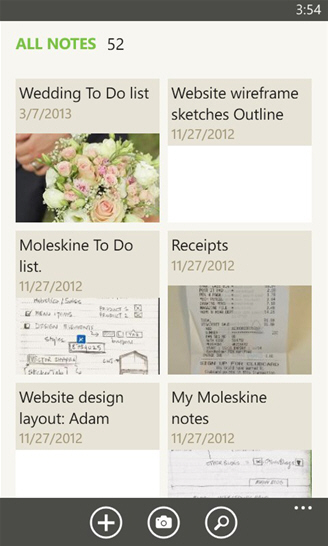 The latest iteration of the note-taking app now touts the tags tab as "significantly more compact" due to a higher number of visible items on the screen. And, borrowing from Windows Phone itself, Evernote 3.0 has implemented the ability to jump straight to a particular letter in the tag list after selecting an item from the alphabetical grid.
Users who like to tick items now have the ability to use checkboxes inside notes, which can of course be both created and edited. For more organized minds Evernote 3.0 now allows you to "visually group similar notebooks". Users can open and close stacks simply by tapping and view the notes from a particular stack with a long tap on the item.
The note-taking app also adds a premium feature -- document search -- which allows users to search for any attached and indexed iWork, Microsoft Word or OpenOffice file. Results will be displayed for documents, spreadsheets and presentations. The app also brings some performance enhancements, per the usual.
Evernote 3.0 is available to download from Windows Phone Store.
Three days ago, Evernote 5.0 arrived on Android with a new multi-shot camera (lets users add multiple pics), page camera (users can align an on-screen rectangle with the page to take photos), and support for Evernote Smart Notebooks by Moleskine.
There is also support for shortcuts, document search (premium feature), tags (for business users) and tweaked UI (User Interface), as well as the usual performance and bug fixes.
Evernote 5.0 is available to download from Google Play.
Considering where Evernote is right now in regard to design, features and availability across multiple platforms I can only wonder what chances Google really has with Keep, its recent attempt to invade Evernote's turf. It's not on Windows Phone, Windows 8, Mac OS, BlackBerry, only on Android, iOS and the browser, and it's way too basic for anything other than simple notes. Like my colleague Alan Buckingham says, "Google can keep Keep, I will stick with Evernote", that is despite Evernote's recent security mishap.