Don't wait -- BUILD registration opens today!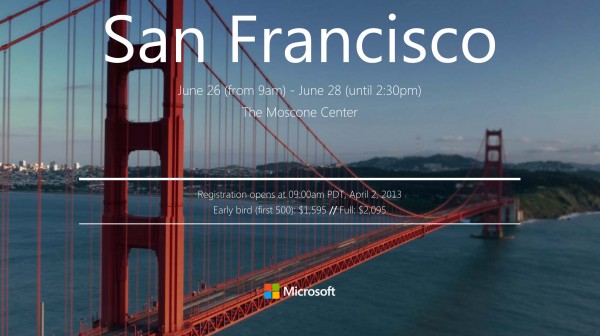 You probably already know that Microsoft is bringing its BUILD conference to San Francisco this June. It's not cheap, the tickets and airfare could set you back considerably depending on where you are coming from, but it may be worth the expense to make the trip. Microsoft has promised to unveil Windows Blue there -- though you're likely to have seen the early leaked version already.
Today is the time to get your credit card ready because registration goes live at 9 AM PT and while it will not be easy on your wallet, those who register early, as in within the first 500, will get a discounted rate and only have their bank accounts lightened by $1,595. If you do not make that "early bird" special then you can expect to pay $2,095 for the privilege of travelling to the Moscone Center in San Francisco.
Aside from the promised Blue unveiling, there is no real guarantee of what to expect. The official site teases all things Microsoft -- Windows, Windows Phone, Azure, Xbox, Internet Explorer, Office 365 and even Visual Studio. Microsoft's Frank Shaw has promised that "at BUILD, developers will see what's next for Windows, Windows Server, Windows Azure, Visual Studio and more".
You will pay more for BUILD than you would to attend Google I/O and you can likely expect less goodies, although Microsoft has been known to give out a few things, such as the Windows 8 tablet it handed out back in 2011. Still, for developers this is the big Microsoft event and will likely sell out rather quickly.