Microsoft BUILD 2013: 'If you're going to San Francisco...'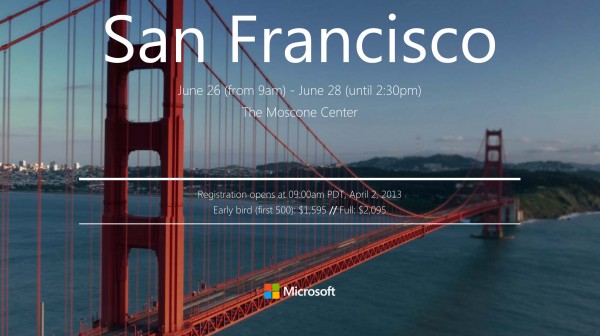 Suddenly San Francisco is the hot developer ticket of the year. Say, can I just rent a room in your house for May and June? Today, Microsoft announced that BUILD 2013 will take place from June 26-28 at the Moscone Center in the city on the bay. Google will be there, same city and venue, with I/O from May 15-17. Apple usually holds its developer conference there in early June but hasn't announced. Big Three trio would be a helluva travel schedule for anyone flying in from anywhere else, particularly outside North America. Choose your event(s) wisely.
I just have to ask: Did Microsoft bump Google? Last year, I/O moved from its more typical May schedule to late June -- 27th-29th. Did Steve Ballmer and Company book early and lock in the dates? I don't really care, and it's not news, but speculation is delicious given the rivalry between these two companies.
As for BUILD 2013, there is little doubt now that Windows Blue is coming really soon. The question is this year or next? Microsoft generally aligns its developer conference with new platform releases, and we all know about the weekend's Blue leak. The OS is out of the bag, all over the Internet and presumably humming on millions of PCs. My colleagues Alan Buckingham, Mihaita Bamburic and Wayne Williams all are true Blue.
End-of-June BUILD doesn't bode well for Windows Blue this year, but Microsoft is picking up the pace with regards to updates. So throw out any past measure. We all could still be BUILD and Blue in 2013.
Steve Guggenheimer, Microsoft chief platform evangelist, offers some context: "We saw more than 100 million downloads from the Windows Store in the first two months after GA, we crossed the 1 billion downloads mark in the Windows Phone Store, we saw a doubling of Windows Azure compute usage in just the last six months and much more".
Registration opens April 2 at Noon EDT. The first 500 people pay $1,595 and everyone else $2,095. Microsoft could really show up Google by handling the load. I/O registration crapped out for the majority of people trying to register 13 days ago.
By the way, Google charges less ($900 for developers, $300 students) and gives away more (media streaming device, smartphone and tablet last year). Microsoft doesn't generally share developer swag with news media attendees, unlike Google. Following BUILD 2011, I really wanted to test Windows 8 Developer Preview, which Microsoft only provided on Samsung tablets. I'm not asking for handouts, just opportunity to use the stuff before writing about it. I strongly suspect Blue will be available to download, which, if so, makes the whole issue moot.
BUILD is much bigger than Windows, which Microsoft teases on the site home page: Azure, Internet Explorer, Office 365, Visual Studio, Windows Phone, Windows Server and Xbox. New game console arrives this year (or so we all believe), and there Microsoft looks to increase development synergy with PC, smartphone and tablet operating systems. But Windows Blue and Windows Phone 9 (hey, even 8.5) will be top of many peoples' minds.
What I'm thinking about: Apple, Google and Microsoft possibly all converging on the same venue within weeks of each other. The old Mamas and the Papas lyric "If you're going to San Francisco, be sure to wear some flowers in your hair" needs some kind of gadgety update for this generation. Wear smartphone on your belt? Carry laptop in your sack? Bring Surface Pro in your bag? Or Chromebook Pixel? Or MacBook Air?
I wasn't serious about that room rental, but do offer someone coming from out of town.