Funny or Die releases a teaser trailer for iSteve, its Apple movie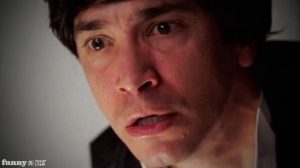 If I was casting a film about Steve Jobs's life, a comic actor probably wouldn't be my first choice for the title role. But clearly I know nothing about such things. Because first we had Two and a Half Men's Ashton Kutcher playing the Machiavellian Apple co-founder in Jobs, and now we have the boyish Justin Long as the titular iSteve in Funny or Die's forthcoming full length feature film.
The teaser trailer for iSteve, which was released just now, doesn't give much away, as it mostly consists of lines from the movie, but we do get a very brief look at Justin Long in the role at the very end.
Does Justin look like Steve Jobs to you? No, but then he didn't look much like a Mac during his time playing one in the long running Mac Vs. PC ad campaign either.
The movie is described as a comedy, although there's no sense of that in the trailer.
iSteve is due to debut on 15 April on Funny or Die. What do you think about it? Are you looking forward to it, or is it something to avoid? Comments below.