BlackBerry Q10 now available to pre-order on Vodafone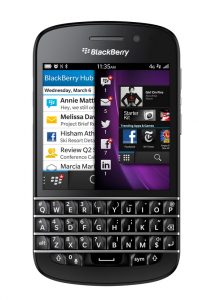 UK dwellers keen to get their hands on BlackBerry's new Q10 smartphone will have to wait until the end of the month when it goes on sale officially, but they can start pre-ordering it today.
Vodafone, which describes the new handset as a "classic in the making" has opened its pre-order page so you can choose a tariff and place your order.
The handset is available in any color -- so long as it's black or white -- and as always there's a choice of plans to pick from. If you don't want to shell out anything upfront, you can sign up for a 24-month Vodafone Red contract which will cost you £37 a month and give you unlimited texts and calls, as well as 1GB of data.
While the phone's stable mate, the Z10, comes with a 4.2-inch touchscreen display, the BlackBerry Q10 has a 3.1-inch touchscreen and the traditional BlackBerry physical keyboard.
Specs-wise, the Q10 rocks a 1.5GHz dual-core processor with 2GB of RAM, and a rear-facing 8-Megapixel camera.