Google reveals Glass specs and releases companion app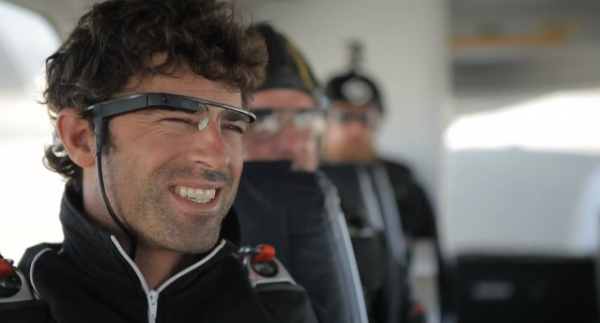 Google has changed many aspects of our mundane digital lives including how we search online, use an email service, communicate with folks around the world, and interact with our mobile devices. Now the company even wants to change how we talk about glasses.
Who could have imagined that in 2013 we would be discussing the hardware specifications of a pair of spectacles? Before Google Glass this was unimaginable, but as the search giant has just released the specs of its specs, things just got real. So what is the search giant's forthcoming device packing?
Let's talk about the display first. Google Glass comes with a high resolution panel which the company says is the "equivalent of a 25 inch high definition screen from eight feet away".
The device features a 5 MP camera that is capable of 720p video recording and sports adjustable nosepads and a durable frame that is designed to fit "any face". There are also "extra nosepads in two sizes".
Google Glass comes with 16 GB of internal storage, 12 GB of which are user-accessible and "synced with Google cloud storage". Presumably that means owners can access and upload files from the cloud using their smart glasses.
In terms of audio, Google Glass features a "bone conduction transducer", which basically means that sound is conducted to the inner ear through the bones of the skull. This is certainly not your run of the mill pair of glasses, that's for certain.
On the connectivity front, Google Glass packs Wi-Fi 802.11 b/g and Bluetooth. It is worth noting that the former implies speeds of up to 54 Mbps, nowhere near as fast as the chipset inside a modern day smartphone, tablet or laptop, for instance.
The battery should last around an entire day with typical usage, but Google says that using Hangouts or recording video might sip more power and make the battery life significantly shorter. To top things off, Google Glass comes with a microUSB cable and adjacent charger.
On the subject of charging Google Glass, the company says: "While there are thousands of Micro USB chargers out there, Glass is designed and tested with the included charger in mind. Use it and preserve long and prosperous Glass use".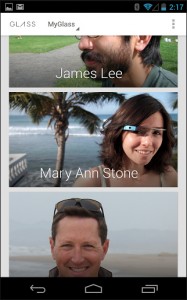 You might imagine a smart device like this needs some sort of app to control it. And it does. The companion app is called MyGlass and is available to download from Google Play now.
MyGlass allows users to "configure and manage your Glass device" through a Google Now-like UI (User Interface). Judging by the provided screenshots, the app works with Google+ and Gmail, as well as other Google services.
Google is testing its sense of humor with the description of MyGlass. The company says: "If you don't have Glass, then downloading this will be a waste of time. Sorry about that. But if you swipe the screenshots to the right you'll see there's a picture of a puppy in pajamas. So not a total waste of time after all".