LinkedIn releases revamped Android and iOS apps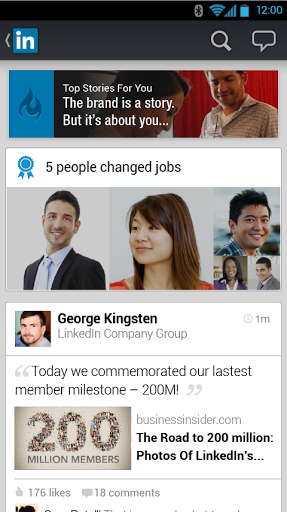 Popular business-oriented social network LinkedIn has unveiled new mobile apps for Android and iOS, touting a "brand new mobile phone experience, completely revamped with the general professional and everyday use case in mind". This comes a day after LinkedIn updated its Windows Phone 8 app, with major new features.
However, unlike the Windows Phone 8 app which offers a similar user experience as before, LinkedIn for Android and iOS sports an overhauled UI (User Interface) that is both more modern as well as better looking. Gone are the darker colors of before as lighter ones take their place instead.
"We want to make it easier for our members to quickly discover and engage with the rich professional insights being shared across LinkedIn to help them make smarter decisions from wherever they may be working", says LinkedIn's Tomer Cohen. "We've designed the new LinkedIn mobile phone app for every professional, with a richer and more engaging stream and more personalization features".
LinkedIn for Android and iOS is designed to provide users with "more relevant and timely professional insights" in the stream, which the social network hopes will lead to a higher level of engagement. Users can now directly comment and like on a post on LinkedIn straight from the "vibrant and visual" stream.
The mobile apps promise a higher level of personalization through the new navigation page which can be triggered by swiping the main homepage to the right. It preloads a number of features which are "handiest on-the-go".
LinkedIn has also provided an interesting insight concerning its users' locations. According to the social network, 64 percent of users reside outside of the US. That is a very important number which explains the expanded language support. LinkedIn for Android now supports Dutch, Norwegian and Turkish while its iOS counterpart also works in Dutch and Norwegian.
LinkedIn promises that further improvements will be made to personalization options and search further down the road this year. Hopefully, LinkedIn is aware that the best move right now is to also update its apps on BlackBerry 10 and Windows Phone 8 to reflect the aforementioned changes and features.
LinkedIn for Android is available to download from Google Play.
LinkedIn 6.0 for iOS is available to download from Apple's App Store.