Family Tree Builder 7.0 syncs with MyHeritage.com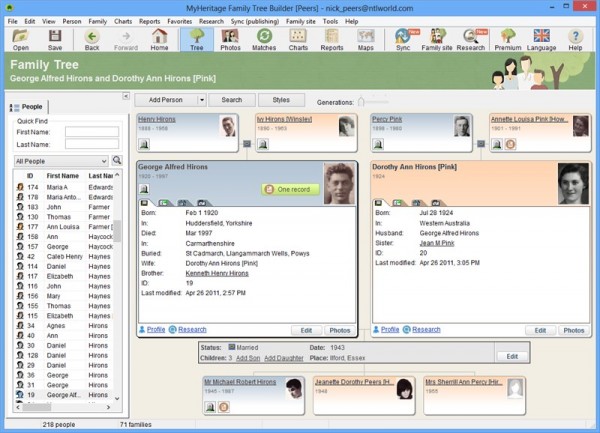 MyHeritage Ltd has released Family Tree Builder 7.0, a major new version of its free Windows app for recording, managing and sharing a family tree. Version 7's major new features tighten its links with the MyHeritage.com website by introducing two-way sync and providing access to the billions of historic records held at the website, some free, but most requiring a subscription.
Version 7.0 also implements full Unicode support, tweaks the user interface and extends language support to four additional countries in the Mid and Far East.
Family Tree Builder 7.0's headline new feature is the implementation of two-way sync. Previously users could upload their tree to the MyHeritage.com servers -- free account holders are limited to 250 individuals in their tree -- but version 7.0 now makes it possible to download trees and tree changes back to the program, allowing users to update their tree using a combination of the website, Windows app and iOS app. All changes are then shared across the different builds when the user next performs a sync.
Practically all information is synced from the app, with the notable exceptions being DNA markers, SSN fields and any fields specifically marked as "private".
Version 7.0 also replaces the existing Smart Research and WorldVitalRecords Search tools with Record Matching and SuperSearch tools. Both are linked to MyHeritage.com's growing list of records, numbered in the billions, with the Record Matching tool performing background smart searches based on the information held in the user's tree. A clickable button next to individuals alerts users to the existence of potential matches.
The new build has also been rewritten to support Unicode, which ensures that data can be entered in any language, allowing for a mix and match between languages in the program. This has led to a new file extension, UZED, being implemented to reflect Unicode projects.
Other changes include a minor facelift of the program interface, plus support for Chinese (both Traditional and Simplified), Japanese, Korean and Farsi languages. Replacing existing personal photos in the tree has been simplified, while support for BCE dates and options to display the husband/father's first name or initial in his children's or wife's name have also been added. The update is rounded off with the usual non-specified bug fixes.
Family Tree Builder 7.0 is available now as a free download for PCs running Windows XP or later. Users will need to sign up with MyHeritage.com to use the program -- free accounts are available, with paid-for premium versions extending the program's functionality as well as providing more storage space online.