Sponsored posts come to Tumblr mobile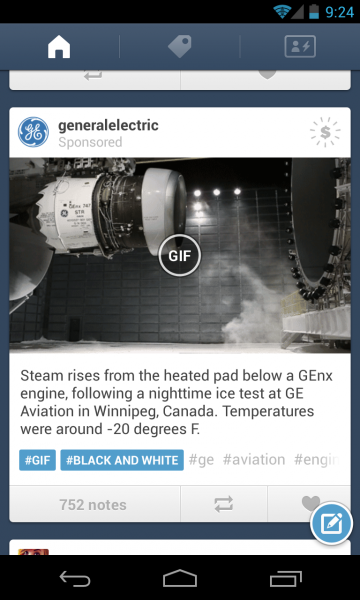 For years, Tumblr CEO David Karp balked at running ads. But, hey, you can only run a free service on startup capital for so long. Karp caved in 2012, allowing sponsored posts on the website. Today Tumblr brings them to the mobile app. Click carefully.
The first one I see is for General Electronic. Surely there's some pithy wisecrack to be made about GE, because of "30 Rock" -- you know incorporating microwave ovens and other products into fictious "TGS with Tracy Jordan".
Gartner forecasts that mobile ad spending will reach $11.4 billion this year, up from $9.6 billion in 2012, and grow by 400 percent -- to $24.5 billion -- in 2016. I suppose Tumblr could leave money on the table, but why not cash in, eh? IDC puts mobile publishers like Tumblr in a category sure to take ad revenues away from mobile ad networks -- right, Google, high among them. In 2012, Facebook, Pandora and Twitter took in more mobile advertising among mobile publishers, with the social network close to the search giant ($234 million to $243 million, respectively).
"Mobile ad networks are losing market share to publishers, and we expect them to lose even more going forward", Karsten Weide, IDC veep, says. "Networks, especially independent ones, are entering a difficult phase, in which, with an ever smaller share of revenue, they'll have to compete with publishers, which will only grow in strength".
Tumblr is one of the first and most successful social sharing blog services, but some newer cloud startups gobble up pageviews, with Pinterest surging ahead of Karp's baby last year.
Tumblr's official take on mobile ads:
It's been almost a year since our first sponsored post appeared in Tumblr Radar. Since then, our fashion, entertainment, and brand partners have created some truly delightful blogs and racked up tens of millions notes on their posts.

We're incredibly proud of our partners' creativity and have been constantly amazed by how well these creations can fit into our Dashboards. So today we're bringing these posts over to our mobile apps.

It works very simply: Every now and then you'll see posts from our partners as you scroll through your mobile Dashboard.
While sponsored, I find the marketing posts to be one of the least-intrusive forms of advertising among popular websites or mobile apps. You?