Update hidden Nokia Windows Phone apps with LUMIA pusher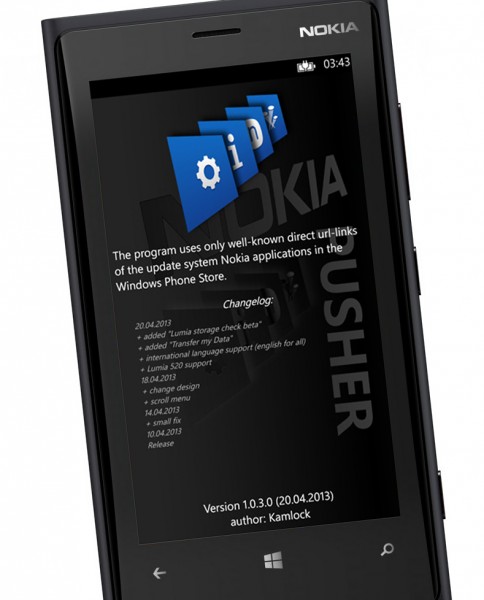 With the purpose of further improving the user experience on Lumia smartphones, Nokia adds its own apps atop of Windows Phone 8. Most of the extra software is available to download directly from the Nokia collection inside the app store, but the remaining few are hidden from prying eyes.
When an update arrives, Lumia users can only wait for the Store app to display a counter and afterwards allow them to install the latest update. And, as Windows Phone users know, that can take some time -- a day or even longer sometimes. So what are your options? Well, you can look up QR codes and scan them or just use the LUMIA pusher app, which allows you to update every single extra right from your Lumia smartphone.
The Nokia account, extras+info, accessories, network+, feedback to Nokia, access point, display+touch and audio apps, which are all available to use through the Windows Phone Settings menu, can be updated to the latest version using LUMIA pusher.
The user only has to tap on the item's name and LUMIA pusher will display the app's page inside the Windows Phone app store. From there, the user can check for reviews and write a new one, share the app via social networks, email or message, read the description, report the app, view the necessary permissions, and so on.
LUMIA pusher can also be used to install and update a couple of other exclusive apps such as Transfer my Data and Lumia Storage Check Beta and update the Yandex search engine for Russian Lumia users. That's just the bonus. The developers should add other software as well, especially from Nokia Beta Labs.
I like the ease of use that LUMIA pusher delivers, but there is one major caveat. If you have a light background enabled on Windows Phone 8 the app will not take it into account as it normally would.
The background is dark, which shouldn't normally be a problem, but instead of keeping the white text with the light background (as it does with the dark one), the app instead uses black for the text. Needless to say, you can't see much.
LUMIA pusher is available to download from the Windows Phone Store.