Nokia outs Lumia 928 Windows Phone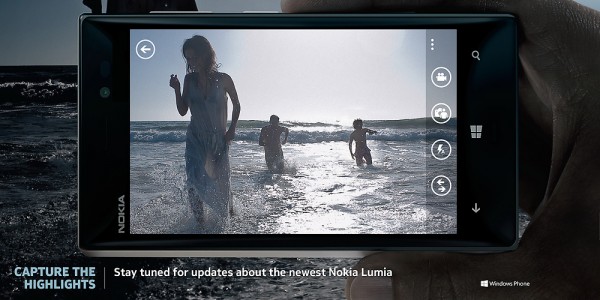 Even if you're not the biggest Windows Phone enthusiast I'm quite sure you have heard or read about the alleged Lumia 928 that Nokia is to unveil sometime soon. I will not bore you with the rumored specs, release date or carrier on which the device is assumed to surface, but can confirm that the Lumia 928 is definitely real.
The Finnish maker, likely to keep the rumors flowing, released a picture showcasing a device referred to as "the newest Nokia Lumia" smartphone. There is no reference of the name in the photo, but the link address clearly says Lumia 928.
The Lumia 928 appears to embody a different design to that of the Lumia 920. The screen is positioned further down the front panel, the Nokia logo is on the left instead of on the right and there is no noticeable camera button on the right side of the device. That last bit may be down to some Photoshopping, as Nokia devices will not likely ditch the camera shutter anytime soon.
There is also a silver-colored frame surrounding the Lumia 928 (with the physical buttons of the same color), which may indicate that Nokia will go with an aluminum body this time around, instead of the polycarbonate used in the Lumia 920. Other visible details include the front-facing camera and nearby sensor, the speaker grill and the three capacitive buttons (back, home and search), none of which is actually surprising.
There are no telltale signs that indicate any other specifications whatsoever. The photo features the Windows Phone logo in the bottom-right side, but makes no mention of the actual version that the Lumia 928 will sport.
There is also a "Capture The Highlights" motto in the bottom-left side, which judging by the magazine ad from Vanity Fair, implies the use of the PureView technology as the picture captured with the Lumia 928 is brighter than the surroundings appear to be. The printed ad also reveals that the smartphone will be available on Verizon.