iPhone 5 brings T-Mobile back to life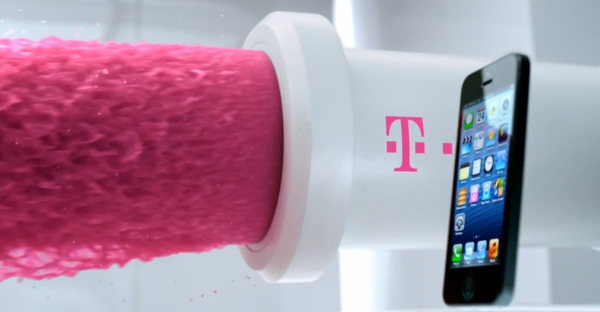 I'm not sure who does whom the bigger favor -- Apple or T-Mobile USA. The nation's fourth-largest carrier started selling iPhone 5 in stores April 12 (preorders a week earlier) and today reports 500,000 sold to date. T-Mobile also added 100,000 previous iPhone owners (presumably the majority from AT&T based on network types). The carrier also sells iPhone 4 and 4S but kept the big news to the 5.
Half-million new iPhones sales is just what Apple needs, too, with the U.S. smartphone market rapidly saturating. Apple is the country's leader, with 39 percent subscriber share in March, according to comScore. Samsung follows with 21.7 percent share. T-Mobile's contribution is sure to lift iPhone against rivals, when April numbers release.
iPhone is part of a four-prong strategy to revive T-Mobile. Second is MetroPCS merger, which was official May 1. Network expansion -- massive 4G LTE rollout -- is the third. Then there is Simple Choice, a no-nonsense contract-free plan, where subscribers pay less upfront for the phone than other carriers followed by 24 payments. There is also the option to buy phones outright.
T-Mobile does not sell phones unlocked, something you might not expect from the marketing. A store representative told me yesterday that unlock codes typically are issued after 45 days, except for handsets purchased outright. Code comes within hours.
The carrier hopes that iPhone and the new "un-carrier" plan will revive subscriber losses. The company's bigger success is prepaid customers, for whom Simple Choice may resonate. During Q1, T-Mobile added 202,000 branded prepaid customers, the seventh consecutive quarter of gains. However, postpaid subscribers fell by a net 199,000, which is actually a 61 percent improvement -- meaning the artery isn't gushing quite as much blood. Pink -- or should that be Magenta -- gained just 3,000 branded subscribers. While small number, behind are big implications: First growth in 3 years.
Many carriers let prepaid customers bring their own devices, a strategy that worked well for T-Mobile when its network didn't fully support iPhone and promises to be better now that the handset is official. Simple Choice lets people bring their own unlocked devices to a postpaid service that starts at $50 per month for unlimited text, talk and web -- the latter is high-speed for just the first 500MB of data. There is no contractual commitment.
For people buying phones, T-Mobile courts the budget-minded -- those worrying what they'll pay upfront and on a monthly basis. For example, iPhone 5 is $99.99 upfront and 24 $20 monthly payments -- or $579.99 outright. Full price through Apple or big-three carriers: $649. The 32GB is $199.99 and the 64 gigger $299.99 upfront and 24 monthly payments, or $679.99 and $779.99 outright, respectively, from T-Mobile. Upfront price from Apple and the big three: $199 (16GB), $299 (32GB), $399 (64GB). Full price: $749 and $849.
When the phone is paid off, the T-Mobile bill goes down by $20 a month. With, say, AT&T, the bill stays the same after the contract commitment is complete. Meaning: Subscribers pay a subsidized phone price premium, whether or not they have a contract. Last week, I got my first full T-Mobile bill: $161, compared to $294 for my last bill with AT&T.
Until there is a full quarter, or even two, of iPhone sales and Simply Choice, T-Mobile's bet is uncertain. If the carrier fails, it won't be for want of trying.