Live fast, stay protected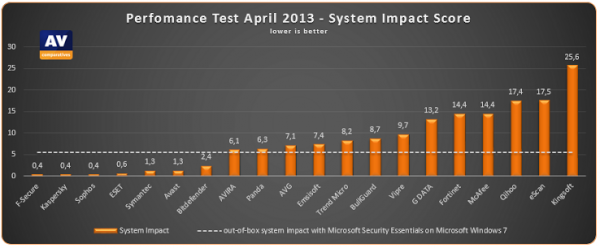 Independent testing organization AV-Comparatives has released its latest performance tests evaluating the impact of security software on system performance. It carried out the tests on a 64-bit Windows 7 system and measured a number of everyday activities including copying files, installing and uninstalling applications and launching programs as well as running the PCMark 7 benchmarking suite.
The results of these tests have been used to produce a system impact score measuring how much difference the various antivirus programs make compared to having no security installed at all. This makes for some interesting reading.
At the top of the tree tied with impact scores of 0.4 (lower is better here by the way) come F-Secure, Sophos and Kaspersky. Second with a score of 0.6 comes ESET. Of what you might call the household names Symantec does best with a score of 1.3 whilst McAfee turns in a disappointing 14.4.
Microsoft's own Security Essentials scores a reasonable 5.6, behind BitDefender's 2.4 but ahead of AVG's 7.1 and BullGuard's 8.7. Bottom of those tested comes Kingsoft with an impact score of 25.6. You can read the full results and the test methodology by visiting the AV-Comparatives  site.
Of course all of this only tells you how the software impacts on your PC, not how well it protects you. As always with security there's a trade off involved but if performance matters then the report will at least help you make an informed decision. You can find data on comparative protection levels elsewhere on AV-Comparatives to help you make up your mind.