LinkedIn and Twitter apps come with new features on BlackBerry 10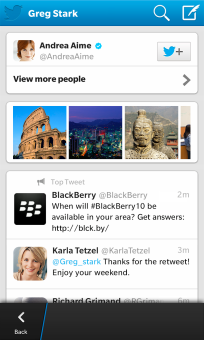 Late yesterday, Canadian manufacturer BlackBerry announced yet another range of updates for the LinkedIn and Twitter apps on BlackBerry 10. The latest iterations are designed to bring the social networking apps on par with their Android, iOS and Windows Phone counterparts and, according to BlackBerry, to "make it easier than ever to stay connected and do more with your social and professional contacts, while on the go".
Twitter is on its third noteworthy update in the past couple of months -- the first one arrived in early-March while the second released weeks later. The latest iteration sports two major improvements, the first of which is the ability to display more content while searching. Users can view photos, relevant profiles and searches as well as tweets and top tweets on the same page.
The second improvement is less important by comparison. Twitter users on BlackBery 10 can now take advantage of automatic caching, which is designed to deliver the latest updates from the feed without manually refreshing it. This feature is already available on other platforms such as Windows Phone.
By contrast, the LinkedIn app is on its second major update in the last two months, with the previous one arriving in early-March alongside Twitter. There are a couple of notable new features introduced in the latest iteration.
The first one is the ability to import address book information from BlackBerry 10 to LinkedIn, which allows users to discover their existing contacts on the business-oriented social network.
LinkedIn users on BlackBerry 10 can view more information about companies, such as their description, available job listings, news and updates, similar companies as well as connection details.
The LinkedIn app on BlackBerry 10 now sports a number of UI related changes that BlackBerry says includes "improved visual styling, better pull-down functionalities for refreshes, touch-down feedback on clicking list items, and more" and "inbox enhancements, deleting and archiving messages, people search improvements, and the ability to update your profile photo from within the app".
LinkedIn 10.0.3/10.1.3 and Twitter 10.0.3/10.1.3 are available to download from BlackBerry World.