Google+ gets major revamp, 41 new features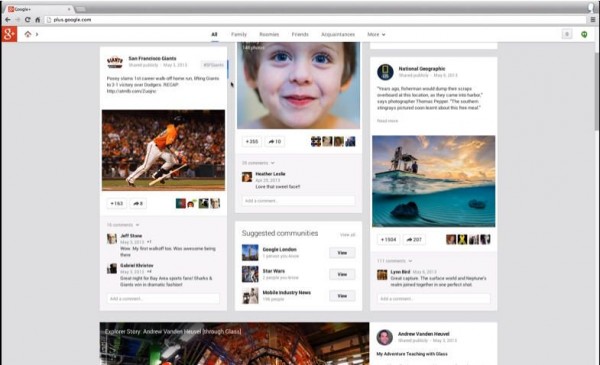 The Google I/O keynote has revealed some major changes to Google+. Highlights include a new multi-column stream aimed not only at providing a cleaner design but also at offering greater depth to the user experience.
The columns are customizable so that you can organize them to show the things that are most important to you. Tiles of information can be flipped to show alternative details and thanks to clever landmark recognition technology you can click on a picture to find more information about the location.
Hangouts are heavily revised too with the focus on making conversations simpler and not just concentrating on video. Hangouts becomes a standalone app on mobile devices and allows you to create ongoing conversations that stretch back over months or even years. You can see at a glance who is taking part in the chat stream and what point they've read up to. The new Hangouts will also allow group video chat at no charge -- take that, Skype!
On the photo side Google+ now offers 15GB of free cloud storage for your images. It can pick the best pictures from a folder for you by weeding out duplicates, blurred pictures or poor exposures. It also analyzes shots looking for smiling people and family images in addition to using the landmark recognition mentioned above to pull out the best shots.
There's an Auto Enhance feature too that corrects a range of common photo problems. Google also introduced what it calls Auto Awesome in order to create good shots by combining other pictures. This allows you to, for example, ensure you get group shots where everyone is smiling.
These changes make Google+ much more attractive in both looks and in function but will they be enough to boost its popularity? Let us know what you think.