Google Play Music All Access is a game changer and iTunes killer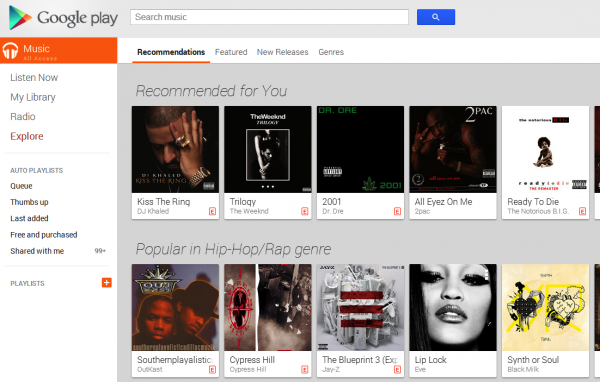 Music Piracy is now dead. Apple iTunes is now obsolete. Spotify, Pandora, Slacker -- yesterday's news. This is all because of Google Play Music All Access. It will change the way you listen to music. It will change your life. You will subscribe. Resistance is futile. This is the future of music.
The idea of a music streaming service is not new. However, a music streaming service by the most important and influential tech company is. On May 15, 2013, Google unveiled its new music streaming service, named Google Play Music All Access. Other than the ridiculously long name (I will just call it All Access for the rest of the article), the service is near-perfect.
Details
Here are some facts about the service:
Unlimited streaming of millions of songs
Available in the USA only (for now)
It costs $9.99 a month ($7.99 if you subscribe before June 30)
Offers a radio feature so users can discover new music
Available as an app for Android, plus all modern web browsers
Selection
The most important aspect of a streaming service is content. Availability of millions of songs is great but if the music you like is not included, it is worthless. With that in mind, I decided to put it through the paces. I wrote down a random and eclectic list of 10 albums I wanted to find:
Neil Young -- Rust Never Sleeps
Kendrick Lamar -- good kid, m.A.A.d city
Beck -- Sea Change
The Rentals -- Return of
The Velvet Underground & Nico -- The Velvet Underground & Nico
De La Soul -- Stakes is High
Cru -- Da Dirty 30
Radiohead -- OK Computer
Roc Marciano -- Marcberg
Cam'Ron -- Purple Haze
Amazingly, of these 10 albums I picked, nine of them were available. Sadly, it was De La Soul's album that was not available. In fact, none of De La Soul's albums were available. This was a huge disappointment, but not a deal breaker as I already own these albums and can upload them later. However, it shows that the service is not perfect yet and Google has work to do. I scrolled through many other selections and was amazed by the amount of music available for a paltry $7.99/ month.
However, the fun does not stop there. Much like Pandora, All Access gives you virtual radio stations based on the music you like. This gives you the opportunity to explore and discover new music. I have already discovered some new hip-hop songs after creating a radio station based on one of my favorite groups, Ugly Duckling. However, unlike Pandora, you have unlimited music skips. So, you are never stuck listening to a song you don't like. You can even click on the album name from which the song is from and immediately begin to listen to the entire album. You can even click on the artist's name to be presented with their discography.
At the start of the article, I mentioned that music piracy is dead. This selection and price point is the reason why. While there will always be stubborn people who just refuse to pay for media, with this price and level of convenience, piracy just isn't worth the hassle.
Buying songs in iTunes, storing them and synching them is just a waste of time, space, energy and money.
Quality
Besides selection, the next most important aspect is sound quality. Before I discuss quality, I should tell you what I am using to listen:
Windows 8 x64
Google Chrome Browser
FiiO E10 USB DAC
Audio-Technica ATH-M50 Headphones
I was dubious of having good sound quality with a streaming service. However, I am happy to report that sound quality does not disappoint. I fired up There's A World by Neil Young and was blown away at the quality and clarity. I actually own this on CD. Comparing the same song on CD (played through Foobar 2000) with the All Access streaming version, yielded no difference.  I tried countless other songs such as Skrillex Breakin' a Sweat and was blown away by the quality.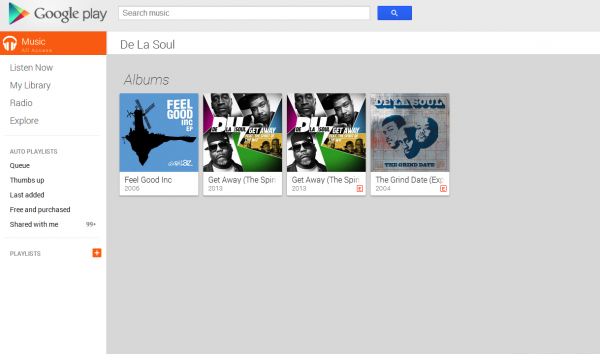 Conclusion
Do I really think Google Play Music All Access renders iTunes, Spotify, Pandora and Slacker as obsolete? Absolutely. I defy you to find a better deal in entertainment. With a price point of $7.99 or $9.99, you have pretty much any song available to you whenever and wherever you want. That is cheaper than a single movie theater ticket! The selection is amazing and the quality must be heard to be believed. But don't take just my word for it; Google is offering a 30-day free trial.
Give it a try and tell me if you agree in the comments below.