Pass the champagne! Windows Phone pips BlackBerry to third place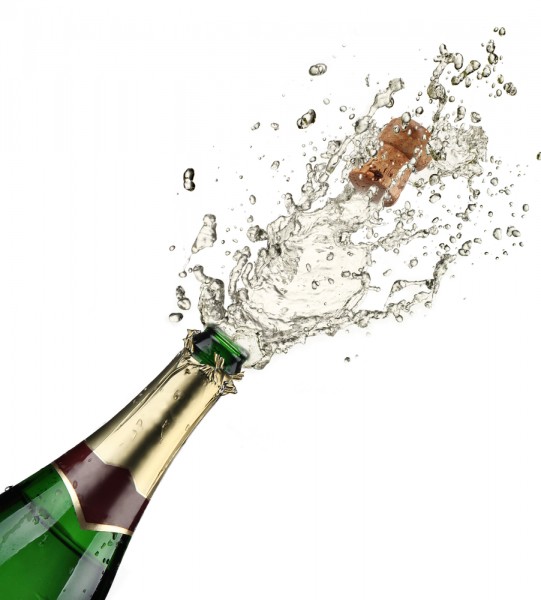 Change the rules of the game and you change the hierarchy. Two days ago research company Gartner released its latest report on the state of smartphone market which, based on sales, places Windows Phone in fourth place, just behind BlackBerry in terms of share. Today, IDC also released its latest report for Q1 2013, that measures shipments, and the two smartphone operating systems trade places -- Windows Phone now surpasses BlackBerry for the third spot in the charts.
That switch means Microsoft and Nokia have a reason to celebrate, in spite of numerous barbs coming from pundits. "Windows Phone claiming the third spot is a first and helps validate the direction taken by Microsoft and key partner Nokia", says IDC's Kevin Restivo. But the research company suggests that the operating system still has a long way to go: "Given the relatively low volume generated, the Windows Phone camp will need to show further gains to solidify its status as an alternative to Android or iOS".
Android and iOS Are Not Untouchable
"Underpinning the worldwide smartphone market is the constantly shifting operating system landscape", says IDC's Ramon Llamas. "Android and iOS accounted for more than the lion's share of smartphones in the first quarter, but a closer examination of the other platforms reveals turnaround and demand for alternatives. Windows Phone has benefited from Nokia's participation, and BlackBerry's new BB10 devices have already hit a million units shipped in its first quarter of availability".
Android and iOS dominate smartphone shipments in Q1 2013. Together, the two operating systems reign over 92.3 percent of the market. Combined, shipments top 199.5 million units, which is 59.1 percent higher compared to the 125.4 million units in the first quarter of 2012.
Android Shipments Surge
The green droid accounts for 75 percent of the market, up from 59.1 percent in Q1 2012, with shipments growing by 79.5 percent to 162.1 million units in Q1 2013 from 90.3 million units in Q1 2012.
Samsung is the top Android manufacturer with 41.1 percent of the market. The South Korean maker is followed by "a long list of vendors with single-digit market share, and an even longer list of vendors with market share less than one percent", says the market research company. "The intra-Android competition has not stifled companies from keeping Android as the cornerstone of their respective smartphone strategies, but has upped the ante to innovate proprietary experiences".
iOS' Aging (Still) Doesn't Affect iPhone Demand
Apple's iOS (or iPhones) claims a smaller piece of the pie with 17.3 percent market share, down from 23 percent in Q1 2012. Shipments increased by 6.6 percent to 37.4 million units in Q1 2013 from 35.1 million units in Q1 2012.
IDC says that the market demand is still strong for iPhones, even though "the iOS experience has remained largely the same since the first iPhone debuted in 2007". The research company briefly discussed the future of the platform: "online rumors and speculation predict a massive overhaul of the user interface when iOS 7 debuts".
Blame Nokia for Windows Phone's Success
The podium is completed by Windows Phone. Microsoft's smartphone operating system accounts for 3.2 percent of the market, up from 2.0 percent in Q1 2012, due to shipments of 7.0 million units, a number 133.3 percent higher compared to the 3.0 million units in Q1 2012.
Nokia is responsible for 79.0 percent of the Windows Phone shipments and has sold 20.3 million units since the company embarked on its Windows Phone journey. "Other vendors continue to offer Windows Phone devices, but mainly as an alternative to their signature Android devices", says IDC. "The gains made by Windows Phone demonstrate both end-user demand and OEM support".
Old Smartphones Keep BlackBerry in the Game
BlackBerry's market share only slightly decreased in Q1 2013, but shipments tumbled. The smartphone operating system is at 6.3 percent share, down from 6.4 percent in Q1 2012, with shipments of 6.3 million units, 35.1 percent lower than the 9.7 million units in Q1 2012.
IDC however is optimistic about the Canadian manufacturer's future. "BlackBerry formally introduced and shipped more than a million units running on its new BB10 platform, a significant breakthrough for the company". The majority of shipments come from BB7 handsets, which "were well received within key markets".
Manufacturers Ignore Linux...
The fifth spot is taken by Linux, which in Q1 2013 had a 1.0 percent market share, down from 2.4 percent in Q1 2012. Shipments decreased by 41.7 percent to 2.1 million units in Q1 2013 from 3.6 million units in Q1 2012.
This is the lowest level since Q1 2012, triggered by manufacturers that have switched to Android. "This is shaping up to be a pivotal year for the open-source operating system, as multiple platforms, including Mozilla, SailFish, Tizen, and Ubuntu are expected to introduce or launch their first smartphones in the coming months", says IDC.
...And Symbian Too
Things aren't looking well for Symbian either. The operating system has a 0.6 percent share of the market, down from 6.8 percent in Q1 2012. Shipments have decreased as well, by 88.5 percent, to 1.2 million units in Q1 2013 from 10.4 million units in Q1 2012.
As I pointed out in "Windows Phone battles BlackBerry for a distant third-place", Symbian's decline is triggered by Nokia's (Symbian's biggest supporter) decision to focus on Windows Phone. IDC confirms: "The decline for Symbian-powered smartphones was expected as its primary OEM supporter Nokia has transitioned to Windows Phone and Japanese vendors have moved to Android". Symbian shipments are still expected to head into 2014, albeit in lower numbers.
Photo credit: Kesu/Shutterstock