Microsoft caves in, cripples YouTube for Windows Phone 8 with the latest update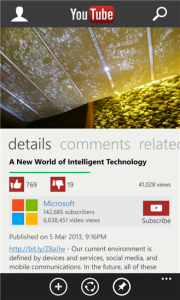 On Wednesday, Microsoft rolls out an update for its YouTube Windows Phone 8 app which takes away the ability to download content from the popular video-sharing website. The latest iteration arrives one week after Google sent Microsoft a cease and desist letter, demanding the removal of the app from the Store. The deadline passes today.
Google's grievances regarding the Microsoft-developed YouTube app focus on the removal of playback restrictions "on certain platforms", the lack of ads and the ability to download videos. Microsoft only resolved the third complaint and, despite the rapidly-approaching deadline, the company hints that YouTube will continue to be available to Windows Phone 8 users.
I reached out to Microsoft for a comment regarding the latest update and here's the software giant's response:
Microsoft updated the Windows Phone YouTube app to address the restricted video and offline video access concerns voiced by Google last week. We have been in contact with Google and continue to believe that our two companies can work together to hone an app that benefits our mutual customers, partners and content providers. We're earning new customers every day, with IDC reporting recently that Windows Phone posted the largest year-over-year gain among leading operating systems. We look forward to working with Google to maintain a great YouTube experience for the growing number of people who rely on both of our respective products.
As I previously mentioned, Google cries foul regarding Microsoft's homebrew app when even the mobile YouTube website fails to show ads in Internet Explorer on Windows Phone 8. A number of other unofficial clients available in the Store, like Metrotube, also do not meet all three requirements mentioned above.
It is, however, reassuring to know that the two companies have decided to work together and settle their differences. The removal of the app can only hinder the YouTube experience for Windows Phone 8 users and, in such a case, neither Google nor Microsoft would win.