Office 365 for Business: Cloud email (finally) ready for primetime [review]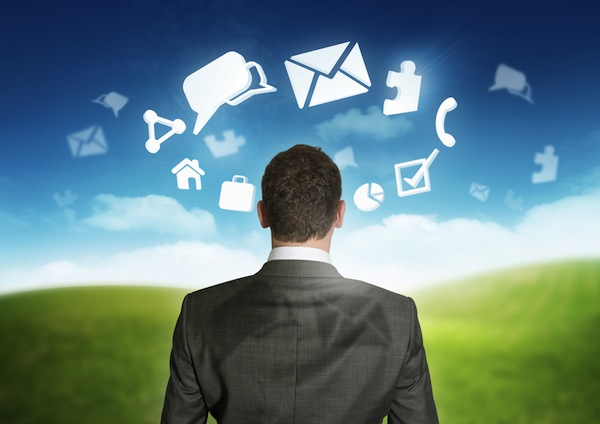 Merely a half year ago, my thoughts on Office 365 were salty at best. Outages continuously plagued the service. Its treatment of browser-based users who wished to forego desktop versions of Outlook and Office disappointed. And spam filtering was bottom tier, proving to do little in stemming waves of junk mail. In the February 2013 release, Microsoft turned a new page and proved why it's a reliable comeback kid in the cloud.
If you don't believe Microsoft is transorming itself into a company solidly rooted in the cloud, you're clearly missing the writing on the wall. The company's past three years have been nothing short of a cloud-cluster of budding services while simultaneously sun-setting legacy on-premise products. Windows Small Business Server bid its farewell, while runaway hits like Azure sweep the Redmond, Wash. horizon. Yet even as Office 365 for consumers came out to relatively loud fanfare, the main attraction of the Office 365 product line is the business-oriented offerings.
Only seven months ago, I put Google Apps and Office 365 head to head in a cloud email showdown. Google Apps came out ahead with a comfortable lead in most aspects, and rightfully so. I lauded Google's top notch spam filtering engine; their dedication to treating browser users as first class citizens; and best-in-class release schedules for new features and bug fixes.
Microsoft listened to the IT community's (and my own) lashings on Office 365, because the recent February 2013 overhaul of the business suite is like night and day to what its predecessor resembled. And luckily, most changes made were for the better.
For the uninitiated, Microsoft rushed to market a half-baked service called Business Productivity Online Suite, which was the big brother to Office 365. This was back in 2010, when Google Apps was starting to become the hot ticket in cloud hosted email. The service itself was just as awkward as its truly maligned name; botched in execution and put forth as a competitor to Google Apps in name only.
Office 365 launched in 2011 to wipe away the mess that BPOS left, and it spent two years in the minor leagues getting numerous rookie mistakes cleaned up. On February 27, 2013 Microsoft finally put two solid feet forward and showed the world it's dead serious about cloud email.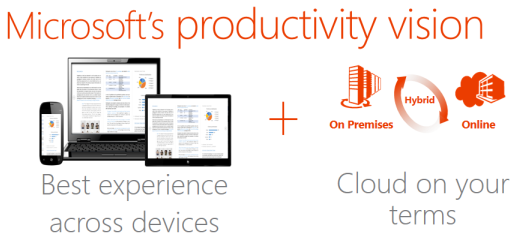 Whereas my company turned customers away from Office 365 in droves pre-2013, we're now embracing the product with open arms. What gives? It's a multi-faceted about face from Microsoft, and from what I've seen from the numerous customers we have deployed on the platform since, experiences have been pretty positive thus far. Some of the key areas Microsoft overhauled in the February 2013 release of Office 365 include:
A first-rate, non-discriminating browser-based experience. The old Office 365 webmail interface, via Outlook Web Access, was marred by the "best viewed in Internet Explorer" dilemma. No such thing in the newest release. Even Chrome and Firefox can enjoy the niceties of this refresh.
Spam & malware filtering on par with Google's Postini engine. I don't have any scientific numbers to back this claim up, but based on "professional judgement", spam filtering in the newest release is quite excellent. False positives are nearly non-existent, and inboxes are finally kept squeaky clean.
Mobile device management (MDM) that is quite powerful. The previous iteration of Office 365's mobile device capabilities was tainted by incompatibilities and odd limitations. The Feb 2013 updates now provide a universal policy toolbox for handling iPhones, Androids, Windows Phones and even BlackBerries equally well.
Office Web Apps are actually worth trying now. The previous iteration of Office Web Apps were awful. Microsoft cared more about being a "me too" next to Google Docs and less of a self innovator. Now, the Apps are actually halfway decent compliments to the traditional desktop apps.
Office Web App documents can now be created without desktop Office. Another gripe about the old Office Web Apps was that you needed Office 2010 just to leverage Office Web Apps. Microsoft clearly had a "duh" moment and removed this arcane requirement.
Less reliance on using PowerShell. One of my biggest gripes in the head-to-head showdown with Google Apps I penned laid within Microsoft's idiotic reliance on PowerShell for making some relatively simple changes to your email domain. While still around, it has been relegated to high level admin tasks for the most part. Read: you don't have to be an IT pro to administer Office 365 now.
In light of all the above positive enhancements, we wholeheartedly recommend Office 365 to customers now. Instead of being relegated as a last resort option for customers who are just horrified at the vision of using Google for email, Office 365 actually presents a value proposition now that can stand on its own. While Office 365 is without a doubt the preferred option over on-premise or hosted Exchange, its now getting a fair shake in situations where I would have solely considered Google Apps.
Online Administration gets a Welcome Overhaul
For a cloud platform, the old Office 365 had a downright pitiful online control panel. Microsoft tried harder to tame an Office 2010-esque color palate than to provide a meaningful, organized administrative experience. The result was a disparate interface, pieced together with numerous sub-sections that had zero flow or logic behind placement. As an IT professional who administers Office 365 domains day to day, the new online interface powering Office 365 since February is a breath of fresh air.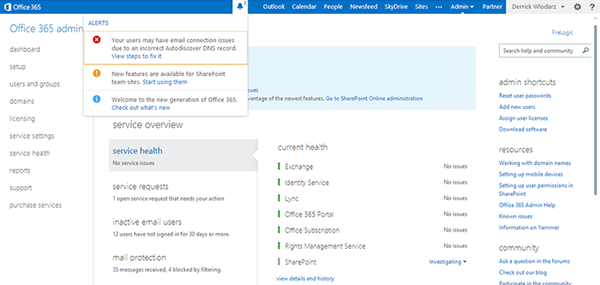 The new Office 365 online control panel dashboard is well-organized, visually pleasing, and easy to operate in every respect. In contrast, the old interface was a daunting experience with no sense of togetherness in either layout or functionality. Now, everything just flows -- as it should.
For example, just figuring out what aspect of the control panel you were in used to be quite the chore. Instead of simply cutting up the admin interface smoothly as it is now, using a simple dropdown menu towards the upper right-corner of the screen, the old experience used disjointed text links to take administrators between Exchange Online control and regular admin features. To some these small caveats may not matter, but they rounded out Microsoft's rookie attempts with the old Office 365 to a T.
More importantly, the old control panel did not display the at-a-glance health information of the current up/down status of various Office 365 facets. Let's be honest: most users that play the hat of administrator will usually log in to check on downtime-related problems. Having this critical information display in your face as soon as you log in is another indicator of Microsoft's eagerness to reign in an era of transparency. Perhaps it was best that the company kept this information under wraps -- stability was a major issue with the old Office 365 anyway.
Taking an elegant page out of the Google Apps UI playbook, Microsoft decided to implement a common 2-pronged navigational structure across the entire Office 365 web interface. The left hand sidebar menu plays host to a number of "primary areas" that control sub-tasks within major sections. And straddling the top of the service is a one-click quick access navigation bar, akin to the prominent "black bar" that gives away most pages within the Google sphere. The resulting experience is clean and connected; users never have to guess at where they are, or how they can quickly change between major features in Office 365.

The new universal nav bar, which straddles the entire Office 365 web experience, takes a solid cue taken from Google Apps' playbook.
Even little things, like the redesigned Domains section of the control panel, make the experience that much more pleasant. You can quickly see which domains are active and functional on your account, and take corrective measures to fix issues that may be affecting mail flow or accessibility on any of them. The old interface was a bit wonky in this regard, forcing you to trial and error multiple supporting links just to find the proper settings page you wanted to access. Minor gripes, but from the perspective of a seasoned IT person, these are the small things that make up a grander picture.
Office 365's Bread and Butter: Exchange Online
If there was one change I had to choose which stands above the rest in importance, it's that Microsoft finally got serious about competing in the browser-based cloud email wars with Google Apps. The poor excuse for a web interface that existed in the pre-2013 Office 365 was putrid. However, in true Microsoft fashion, they redeemed themselves after an extended rookie season with a now gorgeous Outlook Web App experience that pulls straight out of the refreshing Outlook.com closet.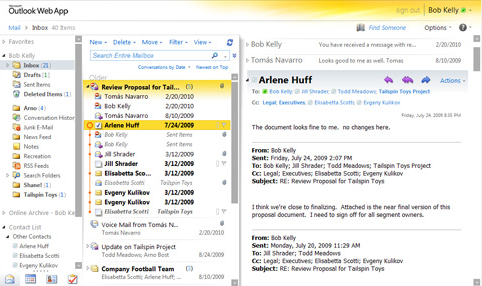 The pre-2013 Outlook Web App that users endured. The goal was to bring the entire Outlook experience into the browser, as illogical as that seems. The result? A clunky, chopped-up interface that didn't even run great in its preferred browser -- Internet Explorer.
I have a bone to pick with Microsoft in that it still does not allow for custom login pages like Google Apps offers. I am not bemoaning the appealing default login page by any means, but customers that know about Google's custom login page capability scratch their heads in disbelief with something so trivial. Nonetheless, I easily get around this caveat by creating a psuedo-custom login link merely entailing the use of a CNAME record that points to the direct OWA webmail link for Office 365 at mail.office365.com.
Gripes aside, the power of the new web interface for Outlook Web App is striking as soon as you get into your account. The simplest items, like even making a new email message, were not well placed in the pre-2013 interface. Take a look at the old interface and new interface (the screenshots straddling above and below are examples) and tell me upon which version you can clearly find the button for making a new mail message.
The new 2013 Outlook Web App simplifies placement of the most basic tasks people were trying to complete via the browser. Yet the resemblance that the new OWA bears to Outlook 2013 and Outlook.com for that matter is very well thought out. People used to the older 2010 style are not left in the dark, yet 2013 users will feel right at home. It's the best of both worlds as far as I'm concerned.
The improvements start in the inbox, but permeate across the rest of the functions of Outlook Web App with crisp refinement. Once again, the Google Apps-esque new top navigation bar creates a unified path for movement between all of your critical areas. Gone are the disorganized, clumsy choices of the pre-2013 OWA release.
Calendar, for example, now has awesome dropdown reminders that pull from the common top bar of the screen, instead of blasting you in the face as the old release did. The calendar in OWA now also supports multi-calendar overlays ala Google Apps, which is refreshing. Working with multiple calendars is now a breeze.
This is not to say that rough edges don't exist. Sharing calendars from the online interface is still a bit of a chore compared to what native Outlook provides, which is a shame because Google Apps has been doing online shared calendars in less than three steps for years now. I have found this out first hand after trying to setup shared calendars between coworkers at businesses we support.
Not only does the share have to be initiated by the first party, but the third party receiving the share needs to actively add the other calendar manually within their "My Calendars" area. Not the end of the world, but it would be nice to see Outlook-style ease of calendar sharing.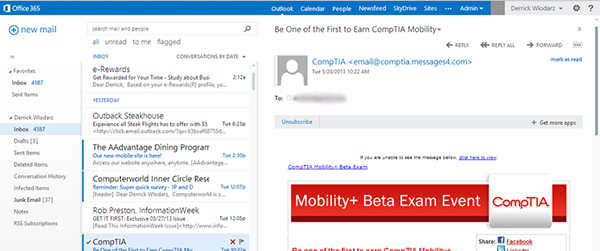 Simple is the new "cool" in the 2013 Outlook Web App interface of Office 365. All browsers work equally well; speed is non issue; and might I say, I prefer it over native Outlook. It replicates about 75 percent of what desktop Outlook can do. OWA isn't a second rate experience anymore.
Contacts has been aptly renamed to "People" as Outlook Web App takes more cues from the social infusion that Outlook 2013 has received. Which is not a bad thing. The address book still works as it did in the past, but searching capabilities have been tweaked to a certain extent for faster results and less waiting.
An interesting new addition is the ability to connect to your LinkedIn contacts and have them stream into your People list. I have not tested this yet, but Microsoft has some decent information about this capability on their support website. I personally prefer to keep my contacts list clean and clear of social accounts, but that's up to you.
The options area for Outlook Web App has also received a feature boost. Not only is the visual layout much cleaner than the old dogged design, but you can handle tasks related to your mobile devices connected to your 365 account, as well as control aspects of how conversations are controlled in reading view. Inbox rules have gotten considerably more powerful, and you can replicate about 80 percent of the potential with rules that are found in native Outlook which is a welcome change.
On the whole, is Outlook Web App finally worth using? Most definitely. Outlook Web Access from Exchange 2003/2007 and even 2010 to an extent was always considered a second (or third) class citizen when it came to basic tasks. So much so that customers would always laugh at me when I brought up even the thought of going into OWA.
The tables have turned, however, and the fact that you can use a non-IE browser and have a quick, seamless experience with most of the features your inbox has to offer is radical when looking back on the history of Outlook Web App since its inception. I have numerous customers who don't even use Outlook anymore because OWA suits their needs just fine. Microsoft knew OWA was a laughable mess since it came out, and they created a browser based experience worth a concrete look in the new 2013 release.
Exchange Online Administration proves 'On-Premise' is Dying
While the end-user side of Office 365's email experience is commendable, IT professionals are likely concerned about the concessions they'll make by moving email administration to the cloud. Specifically, colleagues of mine in the tech industry are always curious about what nitty-gritty administrative tools or functionality they give up with moving to 365. The newest Exchange Online release and its respective Exchange Admin Center prove to be reliable tools which act as the online gateways for playing email domain God.
The million dollar question always is: how much of the traditional Exchange administrative experience does Office 365 replicate in the cloud? If I had to put a number on it, I'd say around 80 percent. Of course there is still going to be a feature disparity in some areas between Exchange Online and traditional Exchange, but the differences are dropping with each subsequent release from Microsoft. In the pre-2013 versions, I estimate that only about 55-60 percent of the features were common across platforms, so Redmond has been making steady progress here. I wouldn't be shocked if there is a 1:1 likeness between the cloud and on-prem versions in the next major update.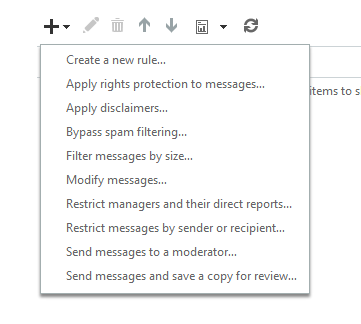 The innate power within Exchange Online administration is shown above, with what kind of mail flow rules can be configured across a domain. Anything from segregating messages from particular senders to applying per-message modifications based on set criteria can all be accomplished in a few clicks. I'm not missing traditional Exchange one bit.
One of the sour spots with the out-of-box experience in 365 is the still relatively useless built-in migration capabilities for email moves. While Microsoft's documentation highlights how you can choose from either Staged or Cutover migrations and the caveats that come with each, one of the biggest things that irks me is the fact that you cannot migrate on-premise Exchange boxes that use self-signed SSL certificates. Strange indeed, because nearly all small businesses we help with Office 365 moves are using Exchange and self-signed SSL certs -- going with third party certs is generally expensive and unnecessary (security purists would likely disagree, however).
For customers who have legal retention and/or archiving capabilities purchased for their domains, the online Exchange Admin Center allows for seamless management of those aspects in the same interface. These functions were usually relegated to third-party services, since Microsoft never had a clean way of doing archiving on a mass scale internally on Exchange. This notion has been turned on its head with 365, as Microsoft offers unlimited archiving on its higher end 365 plans. This puts Office 365 on par with Google Vault for easy administration of users' email archives.
Powerful, Accurate Spam Filtering in the New Office 365
Mail filtering deserves a brief discussion, since this is an area that Office 365 has traditionally fumbled in for as long as I can remember. When I consulted with customers who were on the old pre-2013 release, the agony they relayed to me about poor detection rates for their inboxes was just overwhelming. Under its old moniker of Forefront Online Protection for Exchange, the platform was quite pitiful in its spam detection levels. False positives were common, and too much junk would get through to inboxes. This was one of the big items that forced me to knock Office 365 in my previous head to head with Google Apps.
Spam filtering, and malware filtering on the same note, has gotten a big boost in the form of Exchange Online Protection (EOP) which comes enabled and bundled with every Office 365 email inbox. Microsoft's reliance on Spam Confidence Levels (SCL) in performing spam checks on incoming mail has gotten amazingly accurate, and might I say on par with what Google Apps offers through its notoriously powerful anti-spam engine.
Even though my analysis of the differences is completely non-scientific, the customer feedback since the 2013 release in February has been indicative of the improvements made. Junk is hitting the spam folder an extremely high percentage of the time, and false positives are now near nonexistent. Night and day difference? I'd say so.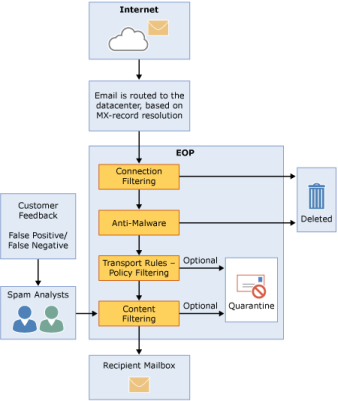 Exchange Online Protection, the spam/malware filtering backbone in Office 365, is disgustingly accurate. Unlike the Forefront-powered sibling it replaced, EOP is now very capable at filtering spam and malware without any third party solution. This reduces cost, complexity, and administration time for customers looking to make the move to 365.
I have heard of customers who had malware outbreaks due to messages with infections that passed through their pre-2013 Office 365 inboxes, but this is a thing of the past. Exchange Online Protection brings with it numerous enhancements for keeping malware out of end users' hands, including the implementation of multiple scanning engines. Microsoft claims that its EOP scanning engines ask for new definition updates every hour, which is better than most client PCs we handle which only do two to three updates per day at best. Microsoft is deeply serious about changing their tainted security image with the new Office 365.
I also want to add that these benefits from EOP extend to any users who are viewing their email through Outlook on the native desktop interface. EOP's deep integration with 365 at the datacenter level means that the desktop, mobile, and Outlook Web App interfaces all take advantage of the filtering provided by EOP. This is one of the numerous reasons why I think Office 365 has on-premise and hosted Exchange beat by a wide margin. If you are looking for the most tight-knit security solution for your cloud email, Office 365 sits at the top of the heap right next to Google Apps.
Office Web Apps is actually Worth a Look Now
If you had a bad taste in your mouth from the previous iteration of Office Web Apps, you're not alone. Microsoft has made considerable changes to how the apps work, and how accessible they are, in making the service more attractive as an alternative to the trend that started with Google Docs. The pre-2013 versions of Office Web Apps had one big, glaring flaw: they could not be created natively from the web. This means you HAD to have a copy of Office installed that worked with this functionality (namely Office 2010) in order to even have access to work with this nuanced capability. Even then, your ability to make massive edits was fairly limited. It was clear Web Apps were not ready for prime time.
The newest iteration of Office Web Apps allows you to create documents right in the web browser. This alone will help stroke up adoption of the service quite a bit in the newest release, as people without the full Office suite installed will be able to have light web versions of Office which can replicate a majority of the core basics from the bread and butter apps Word, Excel, PowerPoint, etc.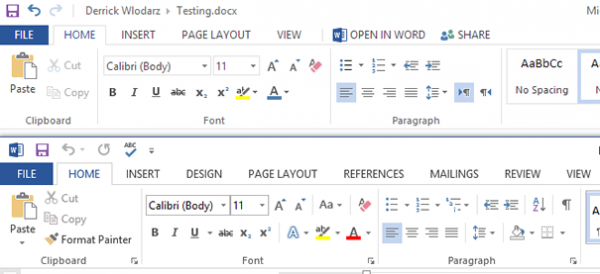 Word Web App replicates a decent portion of what full Word 2013 has to offer. However, take a look at how slimmed down the ribbons are between both variants. Word Web App is notably missing a few key tabs (top) such as Review, Design, References, and Mailings compared to full Word 2013 (bottom).
Another key difference is the conversion of what used to be called SharePoint Workspace to now simply SkyDrive. In reality, this is not the same SkyDrive that consumers are using with 7GB of free storage. SkyDrive Pro is a feature limited to Office 365 for Business accounts that provides the same underpinning of an experience as consumer SkyDrive, but with added functionality when sharing files between coworkers within your organization.
Microsoft even recently released a native Windows SkyDrive Pro app a few weeks back, which means that you can take advantage of the benefits of storing your data on this great new service without being tied to using the new Office 2013 suite. Office 2013 was the only version of Office that offered integrated usage of SkyDrive Pro with Office 365 accounts - until now.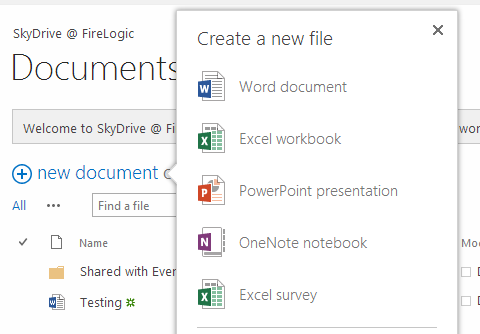 Creating documents through Office Web Apps right from the browser? Yes, this is now an option by default - which means you aren't tethered to the full Office suite anymore.
Would I drop my love of Google Docs for Office Web Apps? Personally, I think Google Docs is still more mature of a product when it comes to browser-based document editing, especially in the realm of simultaneous multi-user document editing. But that doesn't mean Office Web Apps aren't capable in many respects. Co-authoring of documents by multiple parties is now becoming more of a reality, as Microsoft realizes that people are yearning for Google Docs-like capabilities in their Office documents. Microsoft posted a neat video about the current abilities of co-authoring from a sample PowerPoint Office Web App file, which was pretty neat. Let's hope these functions keep growing, and eventually match (and outpace) that of what native Office can do.
If Office 365 is to continue growing into more than just a bona-fide email platform, and into a full blown online workspace solution along the lines of Google Apps and Podio, then this is one of the areas Redmond needs to continue pushing the boundaries on.
Unified Messaging with Lync Online: Promising, but still Maturing
Is Lync, in its current iteration within Lync Online, the silver bullet to unified communications? No -- but the direction Microsoft is heading definitely assures me that they will get there eventually. The new additions to Lync Online are plentiful, and many of the oddities that the Lync platform exhibited in the pre-2013 release have been carefully cleaned up.
One of the biggest gripes I had with the old Lync was its downright embarrassing Lync Web App experience. In true Office 365 fashion for web browser users of the pre-2013 version, the experience was cut rate at best. Windows users got about 50 percent fidelity with what Lync client attendees saw, and it was even worse for Mac users, as our own internal testing proved it likely was never intended to work.
Mac users had to rely on Lync for Mac 2011 from the Office suite - something not all Mac colleagues have access to for one reason or another. In all, the Lync meeting experience pre-2013 was a test in patience and technical aptitude to a large extent.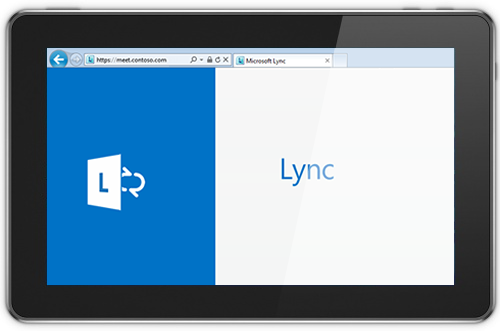 Those days are gone. The new Lync Web App is full featured and claims host to a bevy of capabilities which the old iteration could only dream of offering. One of the biggest introductions is full IP audio and video, as well as desktop sharing. Meeting management is also on par with what the Lync client offers, in that meeting hosts can now work with participant lists and also schedule meetings via the web. The old Lync allowed for web scheduling, but it was pretty pathetic -- I tried it for numerous company meetings we attempted to hold over Lync, and gave up.
The fact that any web browser can be used now is also quite refreshing. Internet Explorer was the browser of choice before, which was another way of Microsoft engineers forcing people to use inferior technology just to take advantage of their cloud. Giving Chrome parity with IE now levels the playing field, and shows Microsoft is committed to continuing its path towards open standards and accepting that there is a life beyond IE.
One of the other things which people should take note of, and something we get asked about quite a bit at FireLogic, is whether Lync Online can replace your current PBX in exchange for a cloud-hosted Lync-powered alternative. For the time being the answer is "no", as Microsoft has just shut down its short-lived Lync hybrid voice solution it was running with partner JaJah Voice. Microsoft still requires that Lync Server be deployed in your local server room in order to take advantage of the "full" Lync Enterprise Voice experience.
Seeing that Microsoft is kicking dust in the face of its own Exchange product in the way of Office 365, it's a shame that fully cloud-hosted VoIP is still not yet possible. This is one of the reasons we are moving customers over to cloud hosted VoIP from RingCentral, while Microsoft gets its PBX-to-Lync transition plan together. It has been quoted that Microsoft has put an 18 month timeframe on getting fully cloud hosted PBX going with Lync, but this remains to be seen.
I won't spend many words on it, but Lync desktop client has gotten a number of new features as well in the 2013 release. Numerous changes to display options for contacts has been added, along with tabbed conversation views, and one-click video calls to boot. Further Outlook integration has also been baked in, for those who are tied to Microsoft's desktop-powered experience.
OneNote has even gotten a layer of integration with Lync in the form of shared notes which can be co-authored during a Lync meeting. While I would opt to just use Office Web Apps to achieve this, it's nice to see the desktop side getting some multi-user attention.
Out-of-box Mobile Device Management
Many people have no idea that Office 365, through Exchange Online, provides quite an impressive array of management features which can be leveraged to keep a fleet of mobile devices secure. Much of this is powered directly via Exchange ActiveSync, the protocol Microsoft developed nearly a decade ago to provide secure access to most data offered up through Exchange services. While it doesn't offer advanced functionality like remote app installation or GPS location of lost devices, if your organization is looking to cover the basics on the cheap, look no further.
For starters, you can easily specify default policies on what kind of password security is required on mobile devices. Complex passwords can be enforced, along with number of sign in attempts before a device is wiped, as well as forced encryption. At one of my last customers that we moved to Office 365, there was a fleet of new Galaxy S3 phones being deployed to replace an aging Blackberry Enterprise Server system with Blackberry phones. Forced encryption worked amicably and ensured that each smartphone was completely safe from data tampering in the event that a remote wipe was not launched in time after the phone was stolen/lost.
Are you looking to drop your own BES environment in exchange for Office 365? You're also in luck, as most subscriptions provide full support for pre-BB10 devices (OS 7.1 and below) via Blackberry Business Cloud Services for syncing and device security. This was a concern for a few customers who were tired of administering BES but did not want to lose the capabilities they enjoyed with managing their fleet of Blackberries. No need to dump those Blackberry phones in order to transition to Office 365.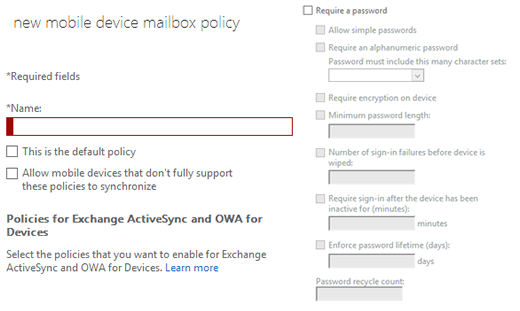 Creating policies to control password requirements and encryption enforcement, to name a few, are very easy in the new Office 365 control panel. The above screenshot shows off all the available features for locking down mobile devices, and these capabilities continue to grow as 365 matures.
Going further, however, Office 365 allows you to set policies on what kind of devices can connect to your domain's email accounts based on pre-set baselines. Where would this come in handy? For example, if a business wanted to ensure that only company-issued phones were allowed to sync to the corporate 365 domain. I see this being very useful for large enterprise or government entities moving to 365, where top-down deployment of smartphones is still quite common due to security reasons.
Remote wipes can be issued both by administrators and end users, something which is very key for situations where IT personnel cannot get involved fast enough to prevent data leaks. The remote wiping capability works very well. On my tests of trying to wipe a Galaxy S3 through the administrative panel, only three minutes after requesting a wipe did the process fully begin and completely rid the test phone of all remnants of its previous information.
In all, the MDM features cooked into Office 365 out of the box are quite powerful and will meet the basic needs of most organizations. Due to this, unless customers have some advanced needs, we are relying on first-party MDM via Exchange Online for 365 customers going forward.
With so many Plans, which Way to Go?
In some ways, there are so many choices in the Office 365 family that your head can start to spin. Microsoft has created a dizzying array of SKUs for the new Office 365 and an increasingly important part of the sign up process is narrowing down exactly what service level to choose. There is little room for making mistakes here, too: since Microsoft bars you from moving between platform levels (i.e. Small Business to E1) without starting from scratch, getting onboard at the correct subscription is critical to avoiding future headaches.
For most businesses, here are all the available plans:
There are a scattering of a few other niche plans, such as Lync Online and Project Online, but those are for specific situations. As I stated above, I am not very fond of both the Kiosk plans or the Small/Midsize Business plans. For one, the Kiosk plans are not entitled to any phone support from Microsoft, which businesses need to be mindful of before going on the cheap. And specifically what deters me from recommending the Small Business/Midsize plans is their standing as true "silo" plans -- in that they cannot be moved up to E or down to Exchange Online Only plans with ease.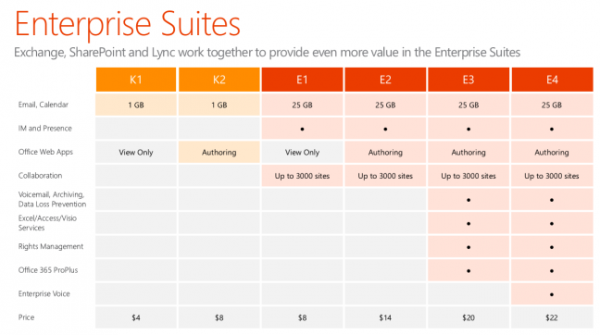 The above chart does a pretty good job showing off the differences between the K and E plans, along with pertinent pricing. For the most part, all of the Enterprise level plans share common 25GB inboxes, Lync Online connectivity, and SkyDrive Pro space for document storage. E2 through E4 plans are given the ability to author documents through Office Web Apps, and E3/E4 plans have advanced features like Office desktop suite rights and archiving functions. If you want a full in-depth comparison of every single feature in the various plan levels, this TechNet blog post goes into painstaking detail for you.
I gave Microsoft a lot of heat in my previous writeup on 365 last year regarding the lack of 24/7 support for the now-dead P level plan they offered. My argument was that they were offering phone support for Exchange Online users at $4/month, but P plan subscribers at $6/month were left to support forums run mostly by community volunteers. It just didn't make sense any way you cut it, and I'm glad Microsoft has ditched that plan altogether and now providers phone support for all of their major tiers except for dirt-cheap Kiosk plans. For businesses making a move to the cloud, having that hand-holding when issues crop up is indispensable.
A lot of customers also ask me whether paying $20/month to get Office 2013 download rights is worth it. That's a question whose answer changes depending on who you are, and how much value you get from the higher end apps of Office Professional Plus. Personally, I rarely use much of the Office suite outside of Word, Excel, and PowerPoint (although I am fond of Publisher for various marketing needs) so to me, as a business owner, paying $20/month just to have those rights is not a deal maker for me. However, if your daily needs entail usage from some of the higher end products, this may be a consideration to make.
Best-in-class Security, Stability rounds out 365's Value Proposition
At first glance you may think that with as cheap as Office 365 pricing comes in, that there must be some concessions. Namely, in the area of security and data privacy. Microsoft pulls no punches here, and rightfully so. With Office 365 becoming a go-to service for a number of large government entities and businesses alike, 365 can't cut any corners with ensuring that organizational data is 100 percent safe.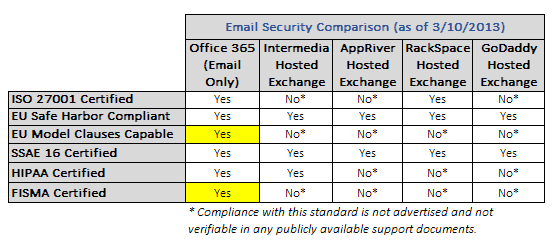 I pitted Office 365 in a head-to-head comparison of security standards and compliance levels against some of the largest hosted Exchange providers (chart originally from my Office 365 v Hosted Exchange article in March). Hands down, Office 365 has the others topped.
You can most certainly read up on all of the various areas that Microsoft is concerned about when it comes to your data. As an IT professional myself, I've told customers time and time again that there is little we could employ in our budgets to bring our on-premise defenses to the same levels as what Microsoft has going in its data centers and cloud infrastructure. Surely there are many skeptics who will claim otherwise, but I challenge them to make good on their word. For all intents and purposes, Microsoft's unrelenting drive for top notch security in 365 is unmatched when put against hosted Exchange or on-premise Exchange.
Security & compliance is an important discussion to have when looking at prospective email providers. I have been equally impressed with Google's stance towards tough security with Google Apps over the last few years, and it's good to see Microsoft following suit and even raising the bar.
Medical institutions, for example, can rest easy that Office 365 has full stated HIPAA compliance for its services. Besides Google Apps, the only other major provider I found to be offering this was Intermedia with their Hosted Exchange product. No matter what kind of legal requirements your organization has, Office 365 seems to have all of its bases covered down pat.
For K-12 education customers, rest assured that Microsoft also has everything in place to meet the stringent requirements set forth by FERPA laws. This is an important criteria to be mindful of for school districts moving to cloud email, as I am only aware of Google Apps and Office 365 meeting these compliance requirements.
In terms of uptime guarantees, Office 365 is held to a 99.9-percent Service Level Agreement (SLA) which equates to no more than 44 minutes of downtime per month, or under 9 hours per year. Microsoft's commitment to stability is extremely reassuring. And yes, while outages have been reported in the media over the last year or so, they are becoming less common and affecting smaller subsets of customers even when they do occur. Overall, from my own experiences with clients, Office 365 has been fairly rock solid since Dec or so of last year.
Tips for a Successful Migration to Office 365
There are numerous pain points we see customers having trouble with while contemplating moves to Office 365. Here are some of my biggest recommendations during the planning phase of a cloud email move:
Don't be afraid to mix & match licenses. Too many people have the misconception that you need to have the same license level for all users. This isn't true! You can, for example, have a subset of people on Exchange Online Plan 1 while everyone else has an E3 subscription.
Hybrid scenarios, or Staged migrations, are OK. Some customers we work with, like K-12, have situations that require either staged moves to 365 or an indefinite hybrid scenario of keeping traditional Exchange or Groupwise running for a number of users. This is fully supported, so don't think you can't get onto 365 unless you can abide by an "all or nothing" move.
Stay away from Kiosk (K) and Small/Midize business plans. I can't stress enough how much disdain I have for these oddball subscription levels. The worst offenders are the Small/Midsize plans, as they have no migration path to E or Exchange Online Only plans in any way without starting from scratch. As I recommend to my clients, try and stick with Exchange Online or E-level plans in order to get the best bang for the buck and ensure you are never stuck in a bad position down the road.
Bring in an Office 365 expert early on in the process, if needed. Too many customers call out for an SOS when it's too late, leading to hundreds (or thousands) of dollars in repair labor to fix botched migrations or 365 buildouts. Avoid the headache and engage a partner (like my company) early on to ensure you are making a cloud transition in the cleanest way possible. Seeing as Office 365 is a service you could potentially be with for 5-10 if not many more years, getting going on the right foot is the best bet in avoiding long term issues.
Microsoft's About Face with 365 is a Win-Win
If it weren't for the February 2013 release of Office 365, I would have started writing the platform's obituary by now. Google Apps has been on a crash course of rapid innovation and progress, and until recently Office 365 was anything but. I'm glad to see that Microsoft took both the community's, and my own, complaints to heart and revamped a service that now has exciting potential to forever change the way we view business email and online collaboration.
Is Office 365 a perfect solution? Far from it -- but not any worse than Google Apps, I will say. It's leagues better than what it represented a mere half year ago. I pinpointed numerous shortcomings in my exhaustive review, and still think Google Apps is a better product for some situations. However, Microsoft has shown it can make great strides in turning a crummy, half-baked solution into a solid and stable ecosystem for today's complex businesses. Here's hoping that Redmond can keep the polish coming so that Office 365 can come recommended without any reservations.
Photo Credits:  James Thew/Shutterstock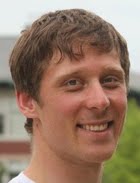 Derrick Wlodarz is an IT Specialist that owns Park Ridge, IL (USA) based technology consulting & service company FireLogic, with over 8+ years of IT experience in the private and public sectors. He holds numerous technical credentials from Microsoft, Google, and CompTIA and specializes in consulting customers on growing hot technologies such as Office 365, Google Apps, cloud hosted VoIP, among others. Derrick is an active member of CompTIA's Subject Matter Expert Technical Advisory Council that shapes the future of CompTIA exams across the world. You can reach him at derrick at wlodarz dot net.