Acer officially announces new Iconia W3 Windows 8 tablet, Aspire S7 and S5 ultrabooks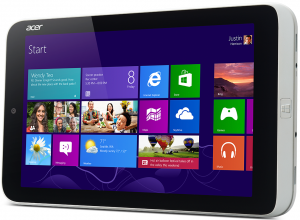 On Monday, at Computex 2013, Taiwanese manufacturer Acer officially took the wraps off the 8-inch Iconia W3 tablet and unveiled two ultrabooks -- the refreshed Aspire S7 and the new Aspire S5. Each device features Intel processors and runs Windows 8.
The Iconia W3, which was quietly unveiled two weeks ago, packs an 8.1-inch display with a resolution of 1280 by 800. Power comes from an Intel Atom Z2760 processor, similar to a number of other Windows 8 tablets on the market. The device also sports 2 MP cameras on the front and rear and 32 GB or 64 GB of internal storage depending on the trim.
The Iconia W3 offers up to eight hours of battery life, which should get most users through the day. Other specs include: Wi-Fi 802.11 a/b/g/n; microSD card slot (maximum capacity -- 32 GB); microHDMI and microUSB ports. The Iconia W3 weighs 1.1 lbs and measures 0.45 inches in thickness.
The tablet's most noteworthy software feature is Microsoft Office Home and Student 2013. The suite comes preinstalled on the device and includes Word, Excel, PowerPoint, OneNote and Outlook (all in 2013 trim).
Iconia W3 pre-orders kick off tomorrow at various retailers including Amazon, Office Depot, OfficeMax, Staples, Walmart as well as Microsoft's online and brick and mortar stores. The Iconia W3 starts at $379.99, making it $50.99 more expensive than the 16 GB Apple iPad Mini.
Acer also offers an optional full-size Bluetooth keyboard dock that holds the device at a fixed viewing angle. The accessory runs for $79.99.
The Ultrabooks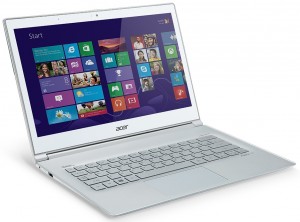 With the latest refresh of the Aspire S7 Acer tries to address a number of concerns related to the build quality of the current iteration, while providing a performance and battery life boost.
The company says that the new Aspire S7 features a "refined electroluminescent backlit keyboard" which allows for deeper keystrokes, improved battery life by 33 percent -- now at seven hours -- and 20 percent lower noise levels at maximum load (compared to the current model).
Prospective buyers can get the high-end ultrabook with a 13.3-inch 10-point multitouch IPS display sporting a resolution of 1920 by 1080, which is rather mundane by today's standards, or with a similarly-sized touchscreen panel packing a whopping 2560 by 1440 resolution.
The latter screen allows the Aspire S7 to better compete against Apple's 13-inch MacBook Pro with Retina display (offers a resolution of 2560 by 1600) when it comes to sheer numbers.
The Aspire S7 ships with a fourth-generation Intel Core processor (codename "Haswell") and a RAID 0 SSD setup. The ultrabook comes in at 12.9 mm in thickness and weighs 1.3 kg.
There is no word on pricing, however availability is slated for Q3 2013.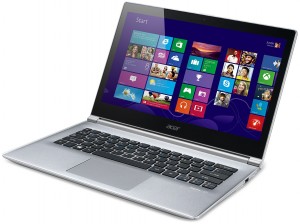 Similar to the Aspire S7, the Aspire S3 features a 13.3-inch IPS display with a resolution of 1920 by 1080 and is powered by Intel's fourth-generation Core processors. The latter, however, also ships with an Nvidia GeForce GT 735M GPU (Graphics Processing Unit) and a 7.2 mm 1 TB HDD.
The ultrabook comes in at 17.8 mm in thickness and weighs 1.65 kg. Acer says that the Aspire S3 is made from aluminum and features a "mirror-polish finish" (glossy).
There is no word on pricing, but availability is set for Q3 2013.