Adobe offers half-baked Reader app for Windows Phone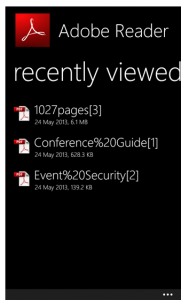 I use Adobe Reader sparingly on any platform. Alternatives abound and mostly those are faster and more secure. Still, the company persists and owns market share for PDF, among other things. That is why, today, when Adobe announces a Reader app for Windows Phone, customers take notice.
"Adobe Systems, which invented the PDF, this morning published its official PDF document reader for Windows Phone 8", says Microsoft's Michael Stroh.
The app promises the moon -- you can open and read a wide variety of PDF documents, including ones that come password protected. There are built-in features that include the ability to copy and paste, search the text for specific words, and zoom in on a page. Customers can navigate docs quickly with thumbnails, then read page-by-page or in continuous scroll mode. Even hyperlinks and bookmarks are supported, too.
What could possibly go wrong? According to my colleague, Mihaita Bamburic, a lot. "It's definitely not as easy and pleasant to use as the PDF app Microsoft offers. There's no share feature built into the app", he tells me. He goes on to point out that "You can't scroll between pages but you can skip straight to a specific one".
So what do all of you Windows Phone fans think? Is the Microsoft app truly better? Stroh says "give it a try and let me know what you think", so take him up on the invitation!