Windows 8 is bad for your health [updated]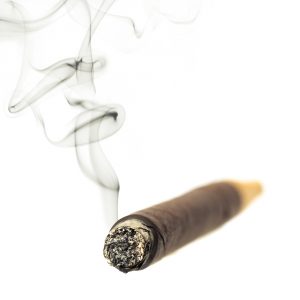 I'm not saying Windows 8 is directly bad for your health -- but it can indirectly lead to lung cancer and countless other diseases. It can also indirectly get you addicted to a particular drug -- nicotine. How is this happening? Through Windows 8 in-app advertising.
As many of you know, I recently made the switch to Windows 8 -- for which I paid for the privilege. Paying for an operating system is unlike the very capable and robust Linux Mint, which is absolutely f
ree. And so, I am a bit upset that some stock apps, such as Bing Weather and Bing Finance, contain in-app advertisements. Advertisements are surprising in the apps that come pre-installed. However, I learned to look beyond these nuisances as I very much enjoy the apps.
Unfortunately, I was dismayed to find an advertisement for tobacco products in both Bing Weather and Bing Finance last week. I don't smoke. I find it to be a terrible behavior and a destructive addiction. However, I do not judge adults that choose to smoke -- it is their decision to make. The problem is, children use Microsoft Windows 8. While I would normally argue that it is up to a parent to watch their children on the computer, I don't think the Bing Weather app should be something that a parent should have to monitor. Things like Bing Weather and Bing Finance should be family-friendly.
To be specific, the advertisement suggests that the user buy their dad cigars for Father's Day. The catchy line in the ad is "Dad will be stoked when you gift him these premium stogies for Father's Day". I was not stoked to see this while checking the Weather! Cigarette ads are banned on television, but you see them in Windows!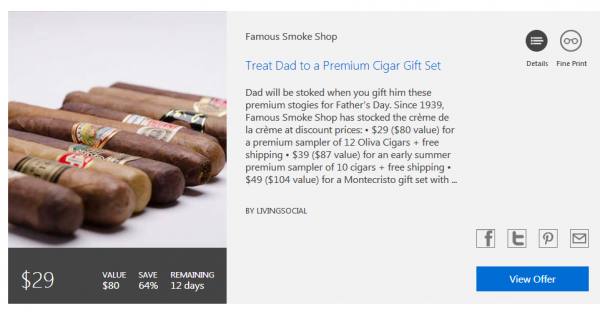 I reached out to Microsoft for comment and received this response:
Thank you for bringing this to our attention. Our creative acceptance policy (CAP) does not allow tobacco products. Microsoft does not contract with tobacco advertisers. What you are seeing is an offer from a third party provider on Bing Offers, who is contractually obligated to adhere to the CAP. It appears that they are not doing so in this case. We have taken steps to ensure this does not happen again and apologize to anyone who this might have upset.
In other words, Microsoft shifts the blame to a 3rd party, which in this case is a company called Famous Smoke. Famous Smoke had a deal with LivingSocial. LivingSocial advertised with Bing Offers. Bing Offers inserted the ad into Bing Weather. While Microsoft's explanation makes sense and likely is correct, it is still troubling. The fact that any 3rd party can break the rules of the creative acceptance policy (whether accidentally or intentionally) and infiltrate Microsoft's operating system with inappropriate advertising shows a lack of leadership at Microsoft. What will be next? Alcohol advertisements? Pornography?
Surely Microsoft cofounder Bill Gates would never allow smoking advertisements in his Windows. A slip-up like this would never get past him. In fact, the Gates Foundation, which is run by Gates and his wife Melinda, has a very strict anti-smoking viewpoint. According to the Foundation website, Gates supports the "implementation and enforcement of proven tobacco control policies: tobacco taxation, advertising bans, graphic warning labels, and smoke-free environments". His advertising bans are in direct conflict with the cigar advertisement that I was forced to see in Bing Weather and Bing Finance.
What do you think?
Is it wrong for Microsoft to advertise tobacco products in Windows 8? Should Microsoft be more in control of the advertisement screening process? Tell me below in the comments.
Update 6/5: A new tobacco ad has surfaced in Bing Offers today. This is after Microsoft claims to have taken steps to "ensure" this does not happen again.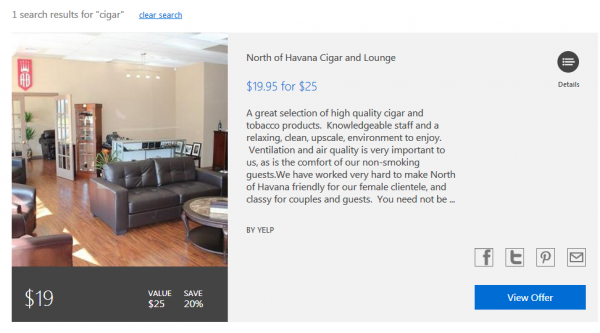 Photo Credit: Vladyslav Starozhylov/Shutterstock