Acer Aspire R7 Star Trek edition goes up for auction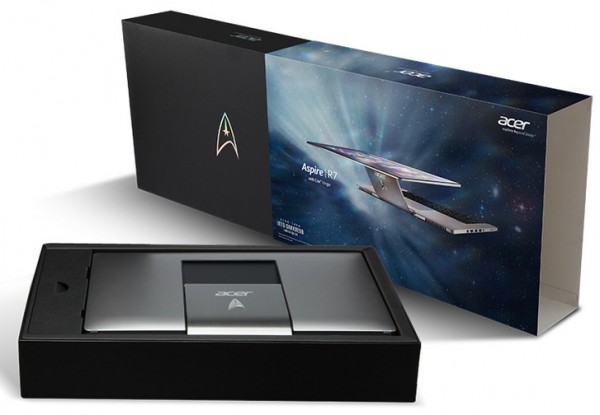 To celebrate the theatrical release of Star Trek Into Darkness, Taiwanese PC maker Acer partnered with Paramount Pictures to create a limited Star Trek themed edition of its Aspire R7 touchscreen notebook. Just 25 of these special R7's were produced, none of which were made available to the general public.
Until now. Acer is putting one -- and just one -- up for sale on eBay, with all proceeds going to two charities -- The Mission Continues and Save the Children.
What's so special about this limited edition? Well it comes with a Star Trek logo and a sand blast finished case, and unfolds in a way that makes it look not unlike a certain starship.
Star Trek wallpapers and videos, a soundtrack and the movie tie-game are also included, as is a film poster signed by the cast. It comes in a very attractive Star Trek themed box too.
According to Neil Marshall, managing director, Acer UK: "We know this extremely rare Limited Edition will be a treasured prize for the winner, and it will also help two worthy charities further their missions of empowering military veterans and helping children in need".
The foldable Acer Aspire R7 runs Windows 8 and can be used as a notebook, tablet or in Ezel Mode. It comes with a 15.6-inch touchscreen,

500GB hard drive and 24GB SSD, and Intel Core i5 processor.
The auction will run from June 14-24 and likely prove very popular with fans of the Star Trek franchise. Acer will also be auctioning off a pair of signed movie posters.