Grand Theft Auto developer plans new franchise for Ouya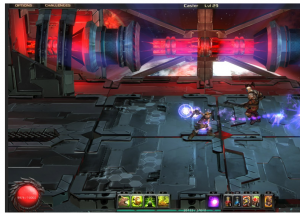 Grand Theft Auto remains a popular game for both Playstation and Xbox platforms, but creator Dave Jones has since moved on, launching his own nWay Studio. Now the company, in conjunction with Android game console maker Ouya, announces a brand new franchise is launching.
ChronoBlade will debut later this year as a browser-based, free-to-play, RPG featuring up to 4-player gameplay. However, Ouya tells us that it will get an exclusive on the new game. "Ouya will be the very first platform to offer the Chronoblade demo which will be available this week via the DISCOVER storefront and playable at OUYA's E3 location next week", the company says.
OUYA also plans to offer the full ChronoBlade experience, complete with an exclusive free-to-try component, when the full version is released later this year.
The Ouya will officially launch on June 25th, retailing for $99. However, if you were a Kickstarter backer, or pre-ordered early on, then you will receive your console before that, if you have not already.