Nokia Lumia 925 available in Germany, gets Glance Screen beta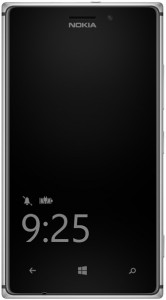 Finnish maker Nokia announced, on Monday, that its Lumia 925 Windows Phone 8 flagship is now officially available in Germany. The smartphone can be purchased from local mobile operators and retailers like Vodafone and Amazon, respectively, alongside carrier agreements or off-contract for EUR599.
Nokia revealed that the Lumia 925 will be its first Windows Phone 8 device to receive Glance Screen. The app, initially available in beta trim, allows users to double tap on the screen in order to unlock the handset and can show the ringer mode, battery status and time on the display, when the smartphone is on standby.
Folks can disable the features introduced by Glance Screen (pictured to the right) by heading into the Windows Phone Settings menu, tapping on "display+touch" and selecting the corresponding option from the "glance screen" tab.
Nokia says that, once Glance Screen reaches stable status, the app will also be available on "most Windows Phone 8 powered Lumia smartphones" alongside the Lumia Amber upgrade. The firmware update arrives this summer.
The highlights of the Lumia 925 include: 4.5-inch AMOLED display with a resolution of 768 by 1280 and a 334 ppi (pixels per inch) density; 1.5 GHz dual-core Qualcomm Snapdragon S4 processor; 1 GB of RAM; 2,000 mAh non-removable battery; 8.7 MP back-facing camera; 1.2 MP shooter on the front; 16 GB or 32 GB of internal storage (the latter storage capacity is available only the Vodafone-branded version); 4G LTE and HSPA+ cellular connectivity. The Lumia 925 comes in at 129 x 70.6 x 8.5 mm and 139 grams.
Nokia also announced that the Lumia 925 will "continue to roll out next in other European markets and China, followed by the U.S. and other markets worldwide". The Finnish maker, however, did not provide any specific availability dates.