Meet Lumia 925 Windows Phone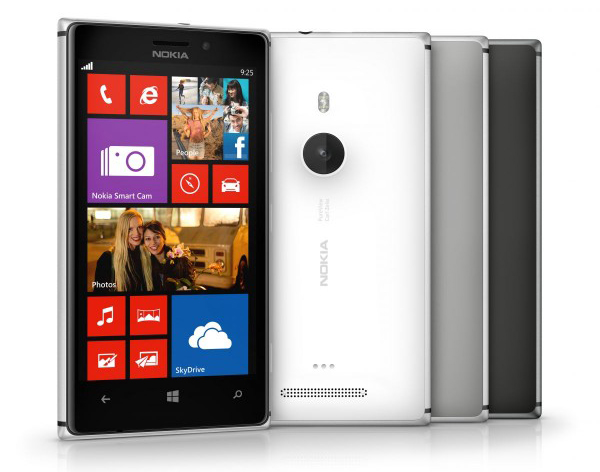 On Tuesday, at an event held in London, Nokia announced the new Lumia 925 Windows Phone. The handset shares most of its specifications with the Verizon-exclusive Lumia 928, unveiled four days ago, and represents a slight evolution from the currently available Lumia 920.
Available color choices for the Lumia 925 include black, gray and white. The handset sports a "metal design", similar to its Verizon-exclusive sibling. A silver-colored frame, which works as an antenna, surrounds the edges of the device, while on the back a polycarbonate (plastic) cover, in either glossy or matte finish, is used. Nokia calls the design "stunning", although from my point of view the Lumia 920 looks better.
The Lumia 925 features a 4.5-inch AMOLED display with a resolution of 768 by 1280 and 334 ppi (pixels per inch) density, PureMotion HD+ and ClearBlack technology. The screen can be operated using gloves, similar to other Lumia devices. Power comes from a 1.5 GHz dual-core Qualcomm Snapdragon S4 processor, 1 GB of RAM and a 2,000 mAh battery. So far the specifications are on par with other Windows Phones like the Lumia 920 and Lumia 928.
On the back here is an 8.7 MP camera, capable of 1080p video recording, with autofocus, dual LED flash, PureView technology and Carl Zeiss lens. On the front, the Lumia 925 sports a 1.2 MP "wide angle" camera that can shoot 720p video. During the London event, the Finnish maker emphasized that the smartphone will be able to take great shots in low-light and well-lit scenarios.
The smartphone comes with 16 GB of non-expandable internal storage. There is also a 32 GB version, available exclusively at Vodafone. By contrast the Lumia 920 and the Lumia 928 both ship with the larger storage capacity out-of-the-box.
With the Lumia 928, Nokia has addressed the size concerns constantly pointed out by many Lumia 920 reviewers. The former comes in at 129 x 70.6 x 8.5 mm and weighs 139 grams. By contrast the latter is taller, wider, thicker and heavier at 130.3 x 70.8 x 10.7 and 185 grams.
Sadly, the Lumia 925 loses the wireless charging feature, which the Lumia 920 offers. The functionality is available, however only through the optional back covers which are sold separately, in black, red, yellow and white color trims. It seems that the lower footprint comes at a price.
Other specifications include 4G LTE and HSPA+ cellular connectivity; Wi-Fi 802.11 a/b/g/n; NFC (Near Field Communication); USB 2.0; Bluetooth 3.0; GPS with Glonass support and the now-customary array of sensors including magnetometer and accelerometer. Nokia also lists an FM Radio as being available.
In terms of software, on top of the currently available apps Nokia also offers the Smart Camera software which allows to shoot 10 photos and edit them afterwards using the Best Shot, Action Shot and Motion Focus features. The extra apps as well as the improved camera software will be available through a Nokia Lumia Amber firmware update, which arrives this Summer for the existing Lumia smartphone range.
Nokia also announced that Oggl, an app made by Hipstamatic, is set to arrive on Lumia Windows Phones. It will allow folks to take pictures, add filters and share them to a number of social networks including Facebook, Flickr, Foursquare, Instagram, Tumblr and Twitter. Sadly, there is still no official Instagram app available on Windows Phone.
The Lumia 925 is expected to be available starting next month in Italy, Germany, Spain and UK, from Vodafone and other mobile operators. The handset will also be offered by China Mobile and China Unicom in China and T-Mobile in the US. Other markets will follow, according to Nokia. Without any local taxes or carrier subsides, the Lumia 928 runs for EUR469.
As a Lumia 920 owner, I am not overly keen on upgrading to the Lumia 925. Yes, it's shorter, narrower, thinner and lighter, but the smartphone also sheds half its storage capacity and the wireless charging feature, both of which I thoroughly enjoy for obvious reasons.