Samsung announces a faster flagship -- Galaxy S4 LTE-A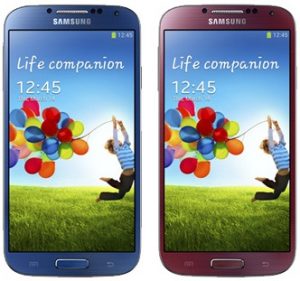 The Galaxy S4 LTE-A is the flagship Samsung should have launched instead of the Galaxy S4. The handset, which was unveiled earlier today, is the least compromising and most powerful entry in the maker's high-end Android lineup.
Samsung touts the Galaxy S4 LTE-A as "the world's first commercially available LTE-Advanced (LTE-A) smartphone". That's a rather bold claim, considering the pretty vague release date -- "this summer". The South Korean maker does not provide exact numbers, but says that the cellular technology offers "double today's LTE speeds" (which, on the Galaxy S4, are 100 Mbps for download and 50 Mbps for upload).
"Samsung maintains a unique position for delivering LTE innovations as a provider of the parts, devices and equipment required to deliver next generation 4G LTE services", says Samsung CEO JK Shin. "The introduction of the GALAXY S4 LTE-A demonstrates Samsung's desire and ability to provide consumers with technological innovations that take advantage of increased network speeds to deliver richer and fuller experiences".
The Galaxy S4 LTE-A packs a 5-inch Super AMOLED display with a resolution of 1080 by 1920 and a 441 ppi (pixels per inch) density. The smartphone is powered by a 2.3 GHz quad-core Qualcomm Snapdragon 800 processor, 2 GB of RAM and a 2,600 mAh battery.
The Galaxy S4 LTE-A comes with a 13 MP back-facing camera and a 2 MP front-facing shooter. Users can access features like drama shot, dual recording, dual video call, HDR (High Dynamic Range) and Panorama.
Out-of-the-box, the Galaxy S4 LTE-A comes with 32 GB of internal storage (of which roughly 24 GB are user-accessible). A microSD slot is also available (it can house memory cards of up to 64 GB in size).
Other noteworthy specifications include: Wi-Fi 802.11 a/b/g/n/ac; Bluetooth 4.0 LE (Low Energy) and NFC (Near Field Communication). Prospective buyers can expect the traditional array of sensors.
The smartphone runs Android 4.2.2 Jelly Bean. As usual, Samsung adds its own branded apps including Adapt Display, Adapt Sound, Hub, ChatON, S Health, S Voice Drive, S Translator, S Travel, Link, Screen Mirroring and WatchON among others.
The Galaxy S4 LTE-A comes in at 136.6 x 69.8 x 7.9 mm and 131 grams. Available color options include Blue Arctic and Red Aurora, with others to follow "at a later date". Sales kick off in South Korea.
By contrast, the Galaxy S4 has nearly the same dimensions (but, at 130 grams, is one gram lighter), however it features a lesser 1.9 GHz quad-core Qualcomm Snapdragon 600 processor, half the internal storage (16 GB) and, as previously mentioned, slower 4G LTE cellular connectivity.