Microsoft releases overhauled Facebook Windows Phone 8 app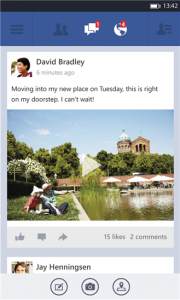 On Monday, Microsoft released an update for its homebrew Facebook Windows Phone 8 app which introduces new features and a redesigned user interface, finally bringing the latest iteration in line with the Android and iOS counterparts.
In terms of design, the app is similar to the beta version that arrived in late-April. Facebook for Windows Phone 8 drops the infinite horizontal scrolling and instead adopts a simpler layout which is comprised of three tabs. The main one displays the news feed. The other two can be accessed by swiping to the left and to the right, just like on the Facebook-developed Android and iOS apps.
Swiping to the right reveals the left-side tab which provides access to news feed settings, messages, nearby locations, events, friends, groups, lists, photos, notes, settings and terms and policies. It also allows the user to log out but, sadly, does not include an access code generator, like the Android and iOS counterparts. Facebook users on Windows Phone 8 still have to receive passcodes for two-step authentication the old-fashioned way (via texts, for instance).
The opposite tab, which provides Facebook Messenger-like functionality, can be accessed by swiping to the left. It includes a list of friends who are available to chat; tapping on any item takes the user to messages.
The main tab is where most users are going to feel the difference over previous versions of the app. I've covered the enhancements when the beta version arrived, but here are the three major differences -- Facebook for Windows Phone 8 now displays larger embedded pics which use the all of the available horizontal estate, allows users to share posts and introduces support for Facebook Timeline.
The Facebook Windows Phone 8 app also touts performance improvements, support for higher resolutions (like 720 by 1280 and 768 by 1280), new live tile sizes "plus more". It is worth mentioning that the beta version will continue to be available, as Microsoft looks for more feedback.
Microsoft says that Windows Phone 7 users will also receive a new Facebook app, which brings similar features to the aforementioned version, but "later in the summer".
Facebook is available to download from Windows Phone Store.