How I inspired rapper Jay-Z to go Twitter-crazy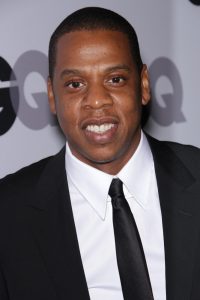 When I tweeted to legendary rapper Jay-Z on July 7th, I never expected to spark the Twitter insanity that was to follow. The tweet was simple enough -- I wrote the following: "@S_C_ Why do I care that you wear Tom Ford? I wear Hanes pocket t-shirts...should I write a song about it?". I was responding to the song "Tom Ford" in which Jay-Z boasts about wearing the fashion designer's expensive clothes. This song is from Jay-Z's new album, "Magna Carta Holy Grail".
I'm a Jay-Z fan but the song caused me to have a moment of clarity. I began to wonder why he was rapping about a trendy clothes designer and more importantly -- why was I listening to it? I am by no means a wealthy person and generally wear plain pocket t-shirts -- I was not relating to Jay-Z on this song. I happened to be at my computer and on Twitter, so I googled Jay-Z's Twitter handle and sent the tweet -- playfully mocking the rapper's bragging. I never expected him to read it or respond to it. And so, I went to bed expecting nothing. How wrong I was.
The next day, my Nokia Lumia 928 alerted me to some Twitter activity. To my shock, Jay-Z had responded to my tweet, saying "YES. *my laugh". I wasn't aware at the time but this was monumental -- it turns out, Jay-Z is a very stingy Twitter user who rarely uses the service and has never tweeted to a fan before. I was the first fan in the history of Twitter to receive a tweet from the famous rapper. This is cool on its own -- to be a very minor part of hip-hop history is a dream come true. However, the story does not stop there.
Apparently, my tweet inspired the rapper -- he continued to tweet fans for hours. His fast and furious tweeting to fans even became a major news story -- CNN, Huffington Post, AllHipHop, and many other sources reported on it. The media coverage is very beneficial for the rapper as his new album officially comes out today -- a great way to get free publicity which is likely the motivation for his many tweets. While the album is officially released today, Samsung Android users had the ability to download it early on July 4th, through an exclusive app.
While I am usually a fan of Jay-Z, I am not fond of his new album. "Magna Carta Holy Grail" is soulless and uninspired -- his worst album ever. However, I am fond of his use of technology to promote his music and connect with fans. His exclusive app for Samsung users and his July 8th tweet marathon are great ways to show how the music industry can still prosper by embracing technology. Unfortunately, the quality of the music doesn't equal the level of the rapper's self promotion.

Image Credit: s_bukley/Shutterstock