BullGuard launches free online virus scan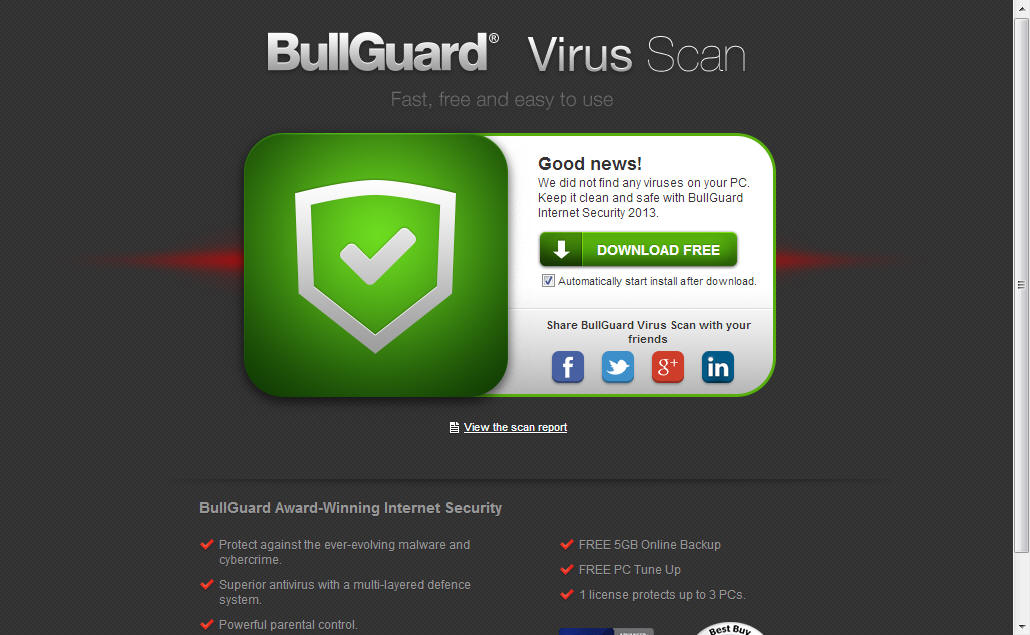 One man's virus is often another's legitimate program or cookie, so whatever antivirus software you have installed it's always useful to be able to get a second opinion from time to time. There are already a number of online scans you can use for this and BullGuard is the latest to join the party with today's launch of its own free scanner.
Unlike some of the alternative offerings, BullGuard works by adding a plug-in to your browser. This lets you run the scan at any time with just a single click on a toolbar button so you don't have to remember the website address or where you filed the bookmark. It supports all of the popular browsers too. The scan, which took just a couple of minutes using the Chrome plug-in on my -- not quite as fast as it used to be -- Windows 7 laptop, looks for viruses and checks that your current security is up to date.
Once it's complete you can view full details of the scan and any detected threats in a text file. You also get the opportunity to download a 60-day trial of the full BullGuard Internet Security 2013 suite to remove any threats found.
"We recognize that maintaining system security is often a painful process and that many consumers don't have the time or inclination to constantly monitor their software," says BullGuard Head of Product Management, Alex Balan. "We know how important it is to ensure that security suites are capable of protecting against the latest threats, so we developed BullGuard Virus Scan with this in mind".
Whether you've noticed suspicious activity on your PC or you just want to double check your existing protection you can try out the scan by visiting the free virus scanner page on BullGuard's website.