Meet Nokia Lumia 1020 Windows Phone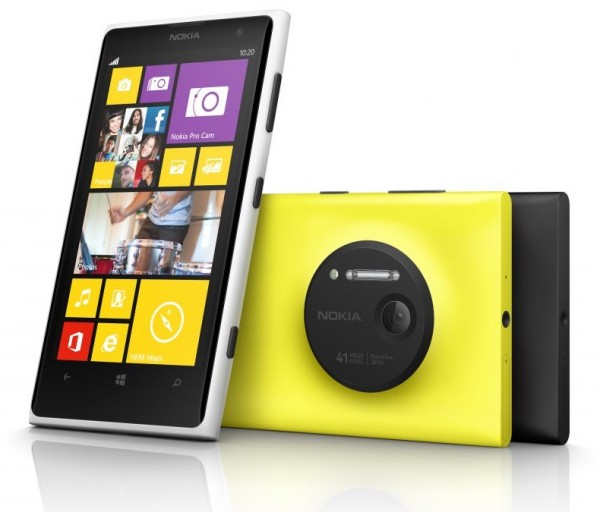 Today, during its "Zoom. Reinvented" press event, Finnish maker Nokia unveiled a new handset called the Lumia 1020, which is the company's modern, Windows Phone 8 interpretation of the year-old 808 PureView.
Just like the 808 PureView, the Lumia 1020 sports a 41 MP camera with Xenon flash, Zeiss lens and OIS (Optical Image Stabilization), that shoots photos at a massive 7712 by 5360 resolution and is capable of 1080p video recording at 30 FPS. But, that's where the similarities end. The Lumia 1020 packs a larger 4.5-inch AMOLED display with a resolution of 768 by 1280, which is protected by Corning Gorilla Glass 3, similar to the Lumia 925 that was unveiled in mid-May. On the front there is a 1.2 MP wide-angle camera that can shoot 720p video.
The Lumia 1020 is powered by a 1.5 GHz dual-core Qualcomm Snapdragon S4 processor, which is backed by 2 GB of RAM (twice as much compared to the Lumia 925) and a relatively small 2,000 mAh battery (considering the camera-focused design).
For the Lumia 1020, Nokia quotes up to 13.3 hours of talk time using 3G cellular networks, 63 hours of music playback, 6.8 hours of video playback and 5.5 hours of Wi-Fi browsing.
The Lumia 1020 offers 32 GB of internal storage and, just like other Nokia-branded high-end Windows Phone handsets, no microSD card slot. This can potentially become an issue for those who wish to store a significant amount of photos on the device.
As far as connectivity options go, the Lumia 1020 features 4G LTE and HSPA+ cellular network support, Wi-Fi 802.11 a/b/g/n, Bluetooth 3.0; NFC (Near Field Communication), USB 2.0 and A-GPS with Glonass support.
The Lumia 1020 comes in at 130.4 x 71.4 x 10.4 mm and 158 grams, which makes it slightly taller, wider, thinner and lighter than the bulky Lumia 920 (measures 130.3 x 70.8 x 10.7 and weighs 185 grams). I expect the former's thickness to actually be much more significant once the rear camera bump is taken into account.
Nokia also revealed two, snap-on accessories called Camera Grip (goes for $79) and Wireless Charging Cover. The former provides a dedicated camera-like grip and can be used with a tripod mount, while the latter allows prospective Lumia 1020 buyers to wirelessly charge the handset by laying it on top of a compatible Qi device.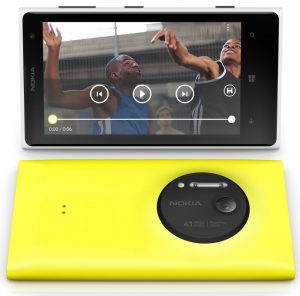 The Lumia 1020 runs Windows Phone 8 and offers traditional Nokia-exclusive apps and features as well as new ones like Pro Camera and Rich Recording, which are designed to offer a more fully-featured camera interface and improved stereo sound recording, respectively. The Lumia 1020 also comes with FM radio functionality.
In the US, the Lumia 1020 will be available, in black, yellow and white trims, exclusively from AT&T. The mobile operator will offer the new Windows Phone 8 handset starting July 26, for $299.99 alongside a two-year contract. Pre-orders will kick off on July 16.
The Lumia 1020 will also be available in China and "key European markets" in Q3, with mobile operator Telefonica carrying an exclusive version in "select European and Latin American markets". Nokia announced that the roll-out will extend to other regions later in the year.