Microsoft slashes the price of Surface RT -- will it be enough to tempt buyers?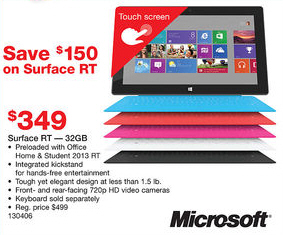 Rumors that Microsoft was planning to cut the price of Surface RT have been swirling for a couple of days, and yesterday they came true. Staples in the US is currently advertising the 32 GB base model of the device for $349.99, a drop of $150. Although the price reduction hasn't been seen elsewhere yet, it should start appearing at other retailers next week. No word on whether the reduction will be offered in other territories.
The price cut is interesting as it's yet another example of Microsoft offering aggressive discounts on Surface RT. The 32 GB version was made available to schools and universities for $199, and attendees at the Worldwide Partner Conference and TechEd gatherings were offered Surface RT 64 GB with touch cover for $99 (although admittedly they had to pay a fortune for a ticket in the first place).
This new price point could well help to drive sales now that Microsoft's Surface reseller program is in place and the tablet has an expanded presence in Best Buy and similar stores, but that may not be the full story.
At WPC 2013 (where incidentally, Microsoft sold over 16,000 of its majorly discounted Surface RT and Pro tablets in the first two days alone) the company's COO Kevin Turner showed a product roadmap that confirmed new versions of both Surface RT and Pro are planned. With replacement tablets incoming (likely powered by either Intel's new Haswell processor or Qualcomm's Snapdragon 800 CPU) it makes sense to try and shift some of the old stock now.
Surface RT has had something of a rough ride. The initial commercials sold it as a tablet that clicks, but failed to mention much else besides, there were complaints about how much storage was actually available to users, and distribution was extremely limited. Microsoft did a pretty lousy job of telling people what Windows RT actually is, which didn't help either. It's a shame really, as while it's (obviously) not a patch on its Pro sibling, Surface RT is still a fine product.
Interestingly, when Microsoft first started taking pre-orders for Surface RT nine months ago, my colleague Joe Wilcox asked "Will you buy Surface RT?" Of the 2,753 people who responded to the poll, just under 26 percent said they had already pre-ordered the tablet, or planned to do so; 20 percent said they intended to pick one up within three months of release; nine percent said they'd get one in six months, and a further 7 percent said they'd get one, but not any time soon.
In other words, over 60 percent claimed they would be buying the tablet. I wonder how many of those positive responses translated into actual sales?
Will the new price point persuade you to pick up Surface RT, if you haven't already?