Acer introduces the Aspire Z3-605 Series desktop, with Harman Kardon speakers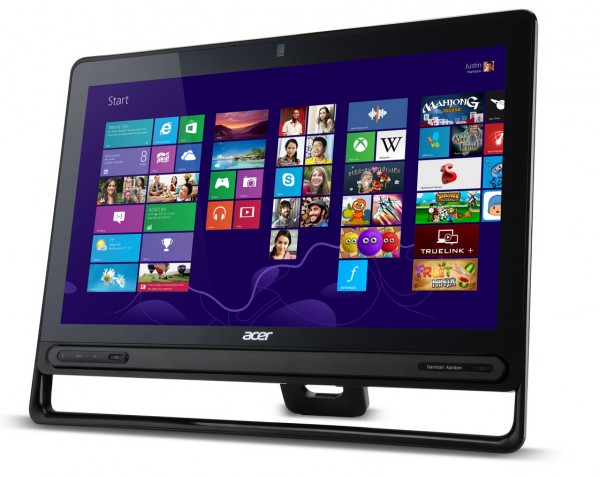 Listening to music or watching movies on your PC can be a slight disappointment if the audio equipment isn't as good as it could be. So with that in mind, Acer has developed a new all-in-one desktop system with two 3W front-facing Harman Kardon speakers built-in.
According to Acer, the speakers "leverage thorough and precise scientific methods to accurately produce crystal-clear audio that's as close to the original recording as possible". The sound quality is further improved with the addition of Dolby Home Theater v4 optimized digital output technologies.
The Acer Aspire Z3-605 Series desktops run Windows 8 and come with a 23-inch Full HD IPS display and an ergonomic frame that tilts from 10 to 30 degrees, to give you the best angle for working or watching a movie. Some models also offer 10-point touch technology and hand recognition software so you can use gestures to execute common commands. I have a couple of hand gestures I like to use with my existing PC when it starts misbehaving, but I'm not sure those ones will be recognized by the Z3-605.
The systems come with (up to) an Intel Core i5 processor, 8GB DDR3 dual-channel memory and a 1TB hard drive. Other features include a 1MP HD webcam capable of 720p image capture, HDMI port, two USB 3.0 ports and two USB 2.0 ports, integrated SuperMulti DVD drive, and SD card reader.
Announcing the new systems, Frank Chang, director of desktop product management for Acer America said, "Integrating Harman Kardon speakers is an important milestone and showcases Acer innovation and technology leadership. Acer is the first in the market to bring Harman Kardon premium sound to a mainstream all-in-one desktop, setting a new standard. The Aspire Z3-605 delivers a dynamic, high-quality audio experience for music and movie lovers and furthers convenience and comfort with an ergonomic and adjustable frame and webcam".
The Acer Aspire Z3-605 Series all-in-one desktops are available at leading retailers in the US now. Prices start from $699.99 without touch, rising to $799.99 with touch.