Apple's Q3 flat earnings show how much it needs new products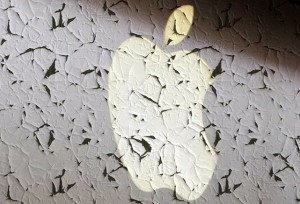 For the past decade, Apple has posted year-over-year revenue growth every quarter. The company announced its Q3 2013 earnings yesterday, posting revenue of $35.3 billion. While that beats the $35 billion posted in the same quarter a year ago -- it's a tight 1 percent growth this time around.
Apple also reported a net profit of $6.9 billion, down from a net profit of $8.8 billion in the same quarter last year. However, average sale prices are lower now, at $581, compared with $608 a year ago.
Apple said it sold 31.2 million iPhones, a record for the June quarter, compared to 14.6 million this time last year.
The company also saw its first ever year-over-year decline in iPads, having sold 14.6 million during the quarter, compared to 17 million in the year-ago quarter (down 14 percent). Apple hasn't launched any new iPads this year, and the market has had time to settle down, explaining some of the drop. The wide range of tablets from other tech firms will likely have had some impact also.
The company sold 3.8 million Macs this quarter, compared to 4 million in the year-ago quarter.
For Apple's fiscal fourth quarter of 2013, the firm is forecasting revenue between $34 billion and $37 billion.
"We are especially proud of our record June quarter iPhone sales of over 31 million and the strong growth in revenue from iTunes, Software and Services," Tim Cook, Apple's CEO said. "We are really excited about the upcoming releases of iOS 7 and OS X Mavericks, and we are laser-focused and working hard on some amazing new products that we will introduce in the fall and across 2014".
Apple's now slowing revenue growth was originally fuelled by the launch of the iPad and backed up by the iPhone's phenomenal success. Both products were launched with perfect timing, when there was nothing like them on the market. But in recent quarters, Apple has faced increasingly stiff competition, and had only variations of existing products -- the iPad mini being the prime example -- to offer in reply. This has been enough to keep the good ship Apple stable, but isn't enough to support the rocketing growth the company has been enjoying. For that, Apple will need those "amazing new products" Tim Cook mentioned.